Abstract: With the rapid development of data centers, the energy consumption of data centers has become more and more prominent. It is an effective way to improve energy efficiency and reduce energy consumption to provide a complete solution for data center. This article introduces the application of Acrel's precision power distribution monitoring device in a data center in Serbia.

Keywords: AC multi channels power meter, Data Center.

1. Project Overview
The Serbian customer needs to monitor voltage, current, power and other electrical parameters on DPU in the data center, measure a total of 48 branches of A+B feed, and provide current transformers at the same time. Acrel AMC16 series products and split-core current transformers fully meet this customer's requirements.

2. Acrel Precision distribution monitoring solution for IDC
It is necessary to real-time monitor and centralize power consumption in the data center and data can be displayed on HMI, and uploaded to the power and environment monitoring system by RS485 on the touch screen and realize real-time monitoring of the whole power distribution system. At the same time, it can realize energy efficiency analysis to reduce energy consumption.
2.1 Functions
Incoming line and outgoing line circuits independent monitoring modules;
Can measure up to 2 incoming line circuits and up to 192 outgoing line circuits current, voltage, power, energy and power quality;
Data centralized monitoring and display by HMI and data is uploaded to power and environment monitoring system through RS485;
For high voltage DC 240V or 336V system, insulation monitoring module can be added to monitor ground insulation resistance of the main bus;
DC24V power supply for touch screen and outgoing line monitoring module(power supply from main module output );
Communication: monitoring device by RS485, touch screen by RS485 or RJ45,
Certificate: CE.
2.2 HMI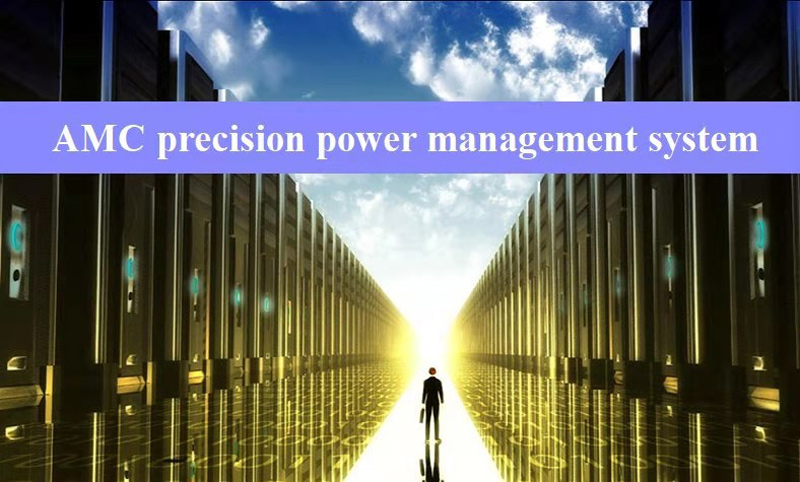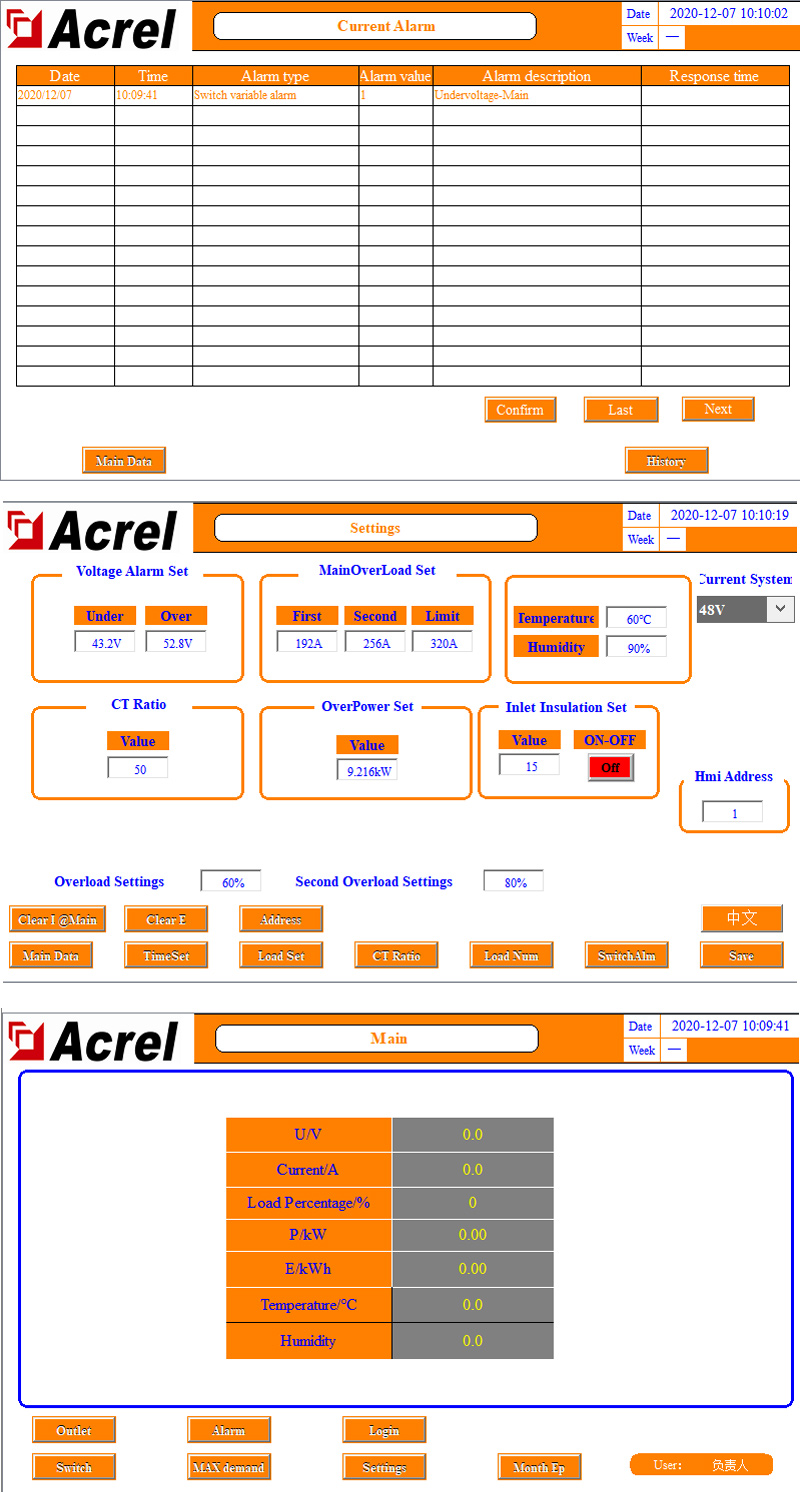 3. Structure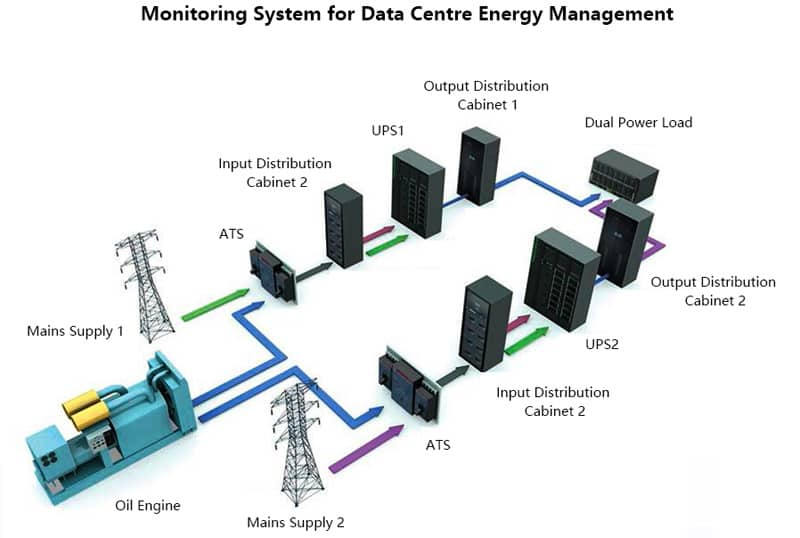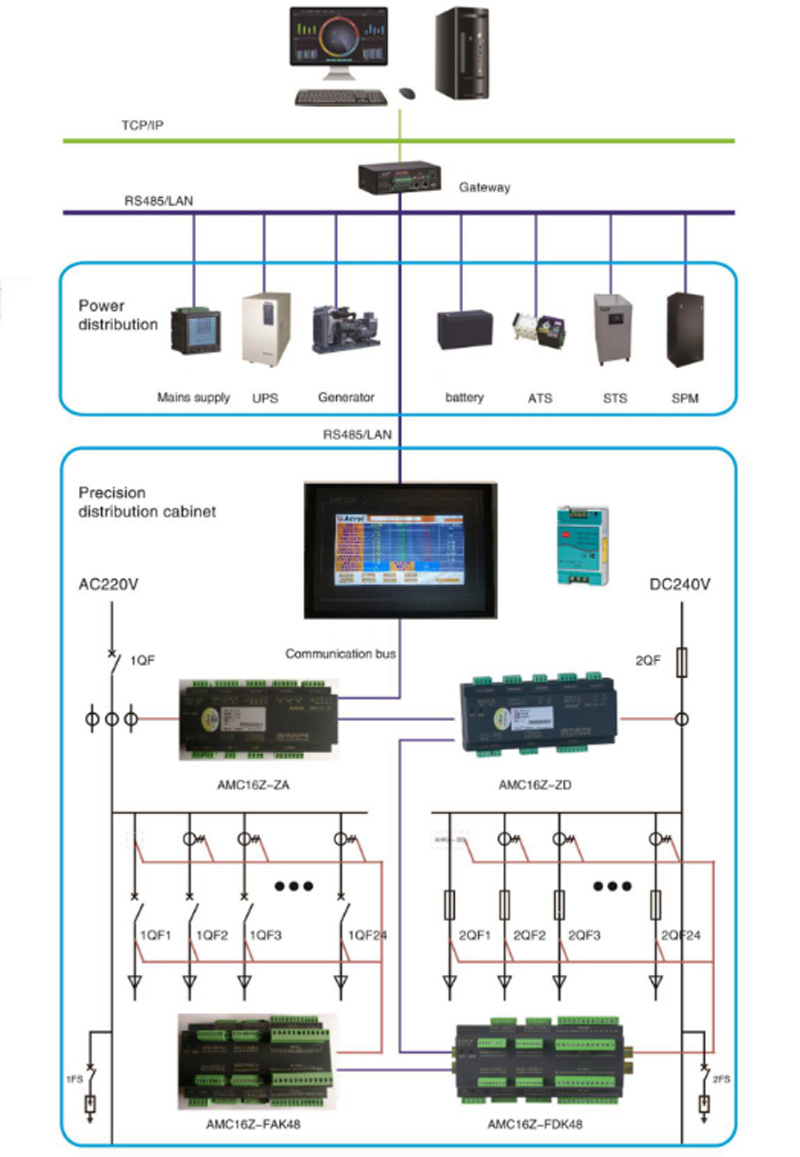 4. Product Selection
Product

Pictures

Model

Main Functions

HMI

ATP007kt

ATP010kt

1. 7 or 10-inch touch screen

2. Real-time monitoring and display voltage, current, power, energy, power quality, switch status, waveform curve and so on.

3. Monitoring device alarm, communication and other parameters can be configured on the screen.

4. 2 RS485 and 1 Ethernet interface, and data can be uploaded by RS485 or RJ45.

AC incoming line monitoring module

AMC16Z-ZA

1. Installation: DIN rail 35mm

2. Measurement: A+B independent 3 phase circuits, 6DI2DO,2 leakage current,1 temp. and humidity.

3. With DC 24V output power supply for outgoing line module and touch screen.

4. Communication: RS485 Modbus RTU

AC outgoing line monitoring module

AMC16Z-FAK24

AMC16Z-FAK48

1. Installation: DIN rail 35mm

2. Can measure up to 16 circuits 3 phase or 48 circuit single phase

3. DC24V power supply

4. Communication: RS485 Modbus RTU

AC outgoing line current transformer

AKH-0.66W

Current ratio:100A/50mA

Common Specification: 100A/50mA

DC incoming line monitoring module

AMC16Z-ZD

1. Installation: DIN Rail 35mm

2. Measurement: A+B independent circuits,6DI2DO,1 temp. And humidity.

3. With DC 24V output power supply for outgoing line module and touch screen.

4. Communication: RS485 Modbus RTU

DC outgoing line monitoring module

AMC16Z-FDK24

AMC16Z-FDK48

1. Installation: DIN Rail 35mm

2. Can measure up to 48 circuits DC outgoing line

3. DC24V power supply

4. Communication: RS485 Modbus RTU

DC incoming line insulation monitoring module

AMC16Z-ZJY

1. Installation: DIN Rail 35mm

2. Measure A+B independent DC circuit ground insulation resistance of the main bus

3. DC24V power supply

4. Communication: RS485 Modbus RTU

DC outgoing line insulation monitoring module

AMC16Z-FJY

1. Installation: DIN Rail 35mm

2. Measure 24 circuits ground insulation resistance of DC outgoing line




DC outgoing line hall sensor

AHKC-BS

Current ratio:100A/5V

Common Specification: 100A/5V
5. Photos on Site