1. Project Overview

Chile pumping station through the PLC system monitoring and operation, to achieve the unmanned duty. Since the customer requested to detect the power consumption of each water pump in the pumping station, the customer chooses the Acrel ACR10R series, the external transformer intelligent meter solution, using split-core current transformer and Simple DIN rail installation, Through RS485 communication docking PLC system linkage, real-time detection and upload power consumption data, easy to monitor and manage the pump station.
2. Product introduction
DIN rail multifunction electrical instrument with external Rogowski coil and split-core current transformer is applicable for the energy-saving reconstruction project in high energy consumption industries including the smelting, iron and steel, welding and semiconductor industry. It is also suitable for applications such as the power monitoring of grid-connected cabinets for distributed photovoltaic power cabinets and energy demand management. It boasts of no need for bus removal, easy connection and safe construction, saving reconstruction cost and raising efficiency for the user. It integrates the measurements of all-electric parameters (including single-phase or three-phase current, voltage, active power, reactive power, apparent power, frequency and power factor)and comprehensive energy monitoring and examination management. Meanwhile, it also has various peripheral interfaces for the user to choose from: the RS485 communication interface with Modbus-RTU protocol can meet the need of online communication management; the interfaces with switch input and relay output can realize the remote signaling and remote control of the circuit breaker switch. It is very suitable for a real-time power monitoring system with an LCD display and panel buttons to realize the setting and control of parameters
3. Model description

4. Technical Parameters
Technical parameter
Value
lnput
Net work
3-phase 3-wire,3-phase 4 wire
Frequency
45~65Hz
Voltage
Rating: AC 57.7V/100V(100V)、220V/380V(4oov)
Overload:1.2-fold rating(continuous);2-fold rating/1second
Consumption:<0.2VA
Current
Rating:80A,120A,200A .etc (See specific product specifications, special parameters can be customized)
Overload:1.2-fold rating(continuous);10-fold rating/1 second
Consumption:< 0.2VA
Output
Electric energy
Output mode: Open-collector photocoupler pulse, two-way output
Pulse constant4000、8000imp/kWh
Communication
RS485 interface, Modbus-RTU Protocol
Display mode
LCD
Function
Switch input
Four-way dry contact input
Switch output
Output mode: two-way relay nO contact output
Contact capacity: AC 250V/3A、DC 30V/3A
Measuring accuracy
Frequency0.05Hz、reactive electric energy1class、other 0.5class
Power supply
AC85~265V or DC100~350V; DC24V (±10%) ; DC48V (±10%); Consumption ≤10VA
5. Wiring & Installation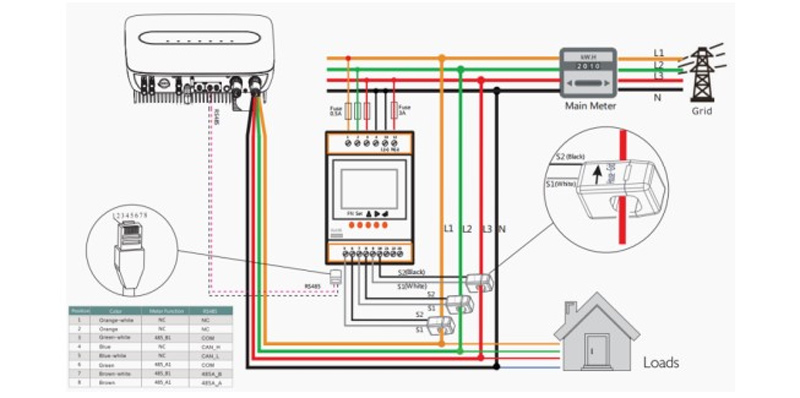 Figure 1 Wiring Graph

Figure 2 Shape and installing size (unit: mm)
6. Network Topology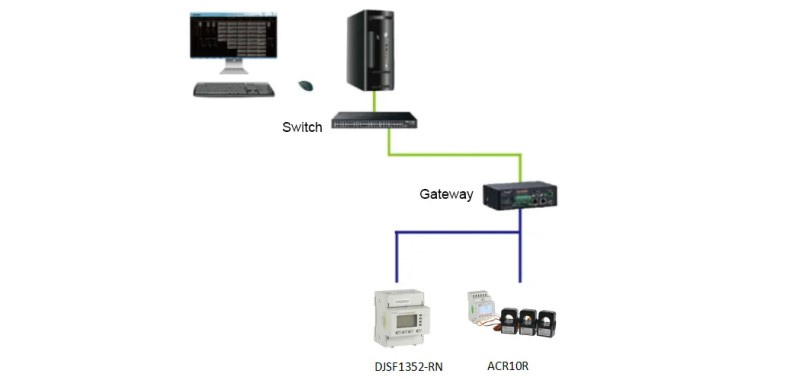 7. Installation Site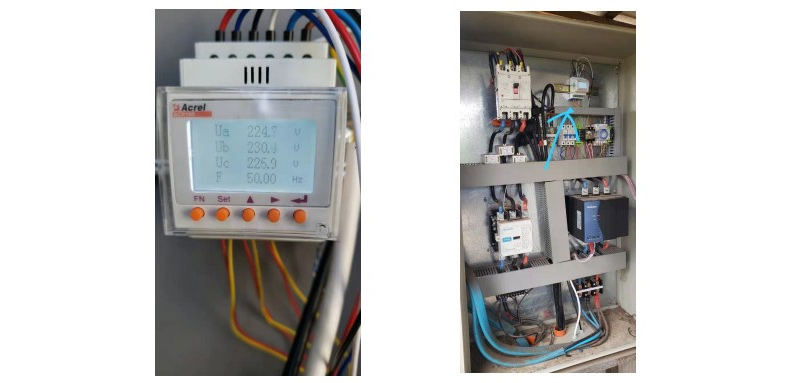 8. Inconclusion
ACR10R series of ACR10R series DIN Rail-type Multifunction Energy Meter with External Split Core Current Transformer adopts DIN35mm guide rail type installation structure, small volume, standard three open type current transformers, can measure electric energy and other electrical parameters, can set the parameters such as clock, rate period, high precision and good reliability. Through RS485 communication, connecting PLC system to read energy consumption data, to help customers monitor the operation of equipment in real-time.