This article introduces the application of Acrel DC meters in PV systems in Canada. The device is measuring the current, together with the shunt.

1. Project Overview
The company is located in Canada, and the company is mainly engaged in the photovoltaic industry. The customer wants to use the DC meter DJSF1352-RN and shunt to monitor and measure the current and voltage of the photovoltaic system and use the switch function of the DC meter for control.

2. DJSF1352-RN Series DC Energy Meters
DJSF1352-RN series intelligent DC energy meter is designed for applications such as DC panels, solar power, telecommunications base stations, and charging ports. This series of instruments can measure voltage, current, power, forward and reverse power in a DC system. It can be used for local display, and connected with industrial control

equipment, computers, form a measurement and control system. And it has a variety of external excuse functions for the user to choose from: RS485 communication interface, Modbus-RTU protocol, relay alarm output, digital input/output. According to different requirements, through the instrument panel keys, you can set the ratio, communication parameters.
3. Model Description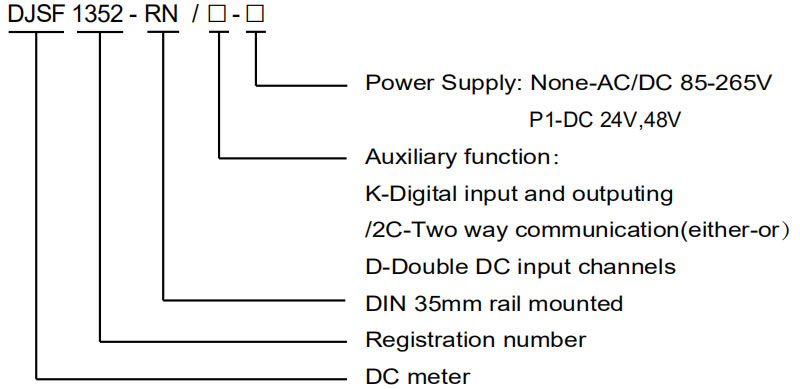 4. Technical data
Technical parameters
lndex
Input
Nominal value
Voltage input range
Current input
DC 0-1000V
Shunt: 0-75mV ;
Hall sensor: 0-20mA、4-20mA.
0-5V,0-10V and so on.
Overload
1.2 times rated (continuous); 2 times rated/1 second
Power consumption
Voltage: ≤0.2VA, current ≤0.1VA
Accuracy
Class 1
Function
Display
8-bit segment LCD screen (LCD)
Communication interface
RS485, infrared
Communication protocol
Modbus-R TU, DL/T 645-2007
Switch
Switch output
2 relay outputs,2A/30VDC or 2A/250VAC
Switch input
2 dry contact inputs
Pulse output
A second pulse output, an energy pulse output
See the SYS->PLUS display in the meter menu settings For example The meter displays 100, which is 100imp/kWh
Power Supply
Voltage range
AC/DC 85-265V or DC24V(±10%) or DC48V(±10%)
Power consumption
≤3W
Power frequency withstand voltage
Power supply ll Voltage input l/l Current input !/l Relay output and switch input l/ Communication interface // Pulse output 3kV/1min
Insulation resistance
≥40MΩ
Average barrier-free working hours
≥50000h
Environment
Temperature
Normal operating temperature: -25C~+65°C; Limit
Humidity
≤93%RH, no condensation, no corrosive gas
Altitude
≤2500m
5. Product main functions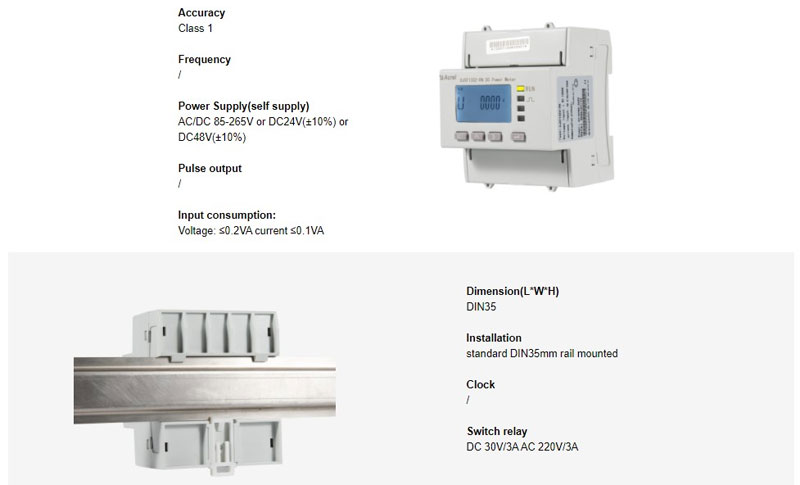 6. Installation picture