Application
In recent years, in response to global warming and climate change caused by greenhouse gas emissions, major countries have focused on promoting electric vehicles to replace traditional fuel vehicles. And the construction of charging piles is very important in the promotion of new energy vehicles. Therefore, a large number of charging pile projects have emerged around the world.
Single-phase and three-phase AC, DC energy meters complies with the corresponding IEC standards and can be used in all kinds of AC and DC charging piles to realize charging energy measurement and can transmit electrical parameters in real-time through communication.
Structure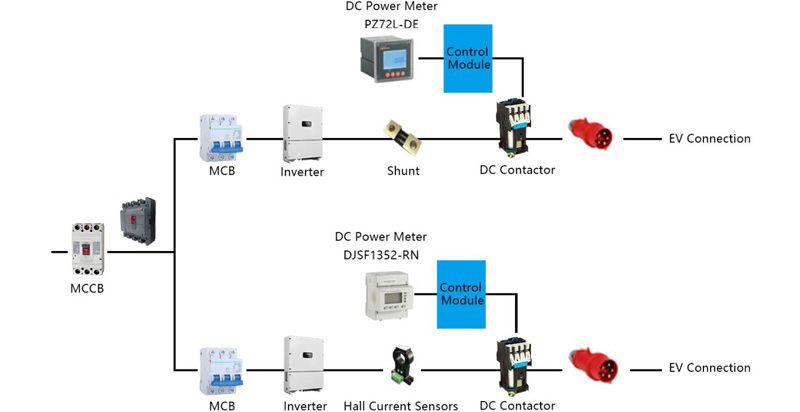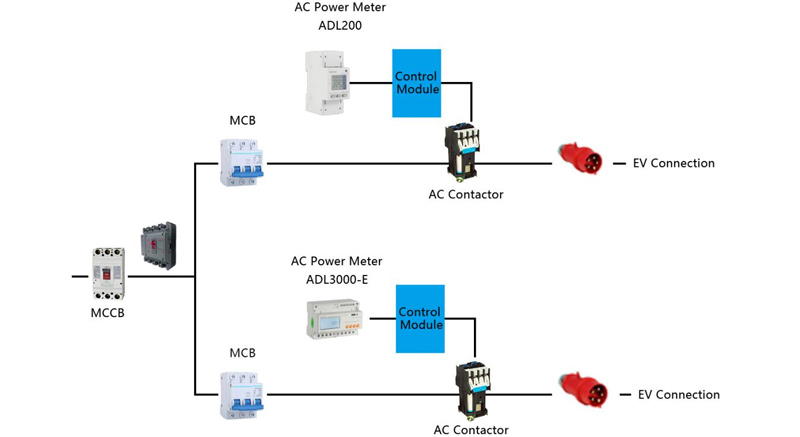 Main Functions
It can measure and display electrical parameters such as voltage, current, power, energy, and support RS485 communication and electric energy pulse output.
Accuracy: Energy Accuracy: Class 0.5S or Class 1
Optional Configuration: Optional multi tariff.
Certificate: With CE or IEC certificed
Product Selection
Item

Shape

Type

Function

Single Phase AC Energy Meter


ADL10-E

Din rail mounted; single-phase 60A, 50/60Hz input; measurement of electrical parameters such as voltage, current, power, energy; RS485 communication (Modbus protocol).

ADL100-ET

Din rail mounted; single-phase 60A, 50/60Hz input; measurement of electrical parameters such as voltage, current, power, energy; RS485 communication (Modbus protocol). energy pulse output; optional multi tariff.


ADL200

Din rail mounted; single-phase 80A, 50/60Hz input; measurement of electrical parameters such as voltage, current, power, energy, etc.; RS485 communication (Modbus protocol); energy pulse output; optional multi tariff.


Three Phase AC Energy Meter


ADL400

Din rail mounted; three-phase 80A, 50/60Hz input; measurement of electrical parameters such as voltage, current, power, energy; RS485 communication (Modbus protocol); energy pulse output; optional multi tariff.

ADL3000-E

Din rail mounted; three-phase 80A, 50/60Hz input; measurement of electrical parameters such as voltage, current, power, energy; RS485 communication (Modbus protocol); energy pulse output; optional multi tariff.

DC Energy Meter


PZ72(L)-DE

Panel mounted, measure DC voltage, current, power; measure DC energy; direct connect voltage 0-1000V; current measurement support 75mV output of shunt, support 0-5V, 0-20mA output of hall; RS485(Modbus protocol)

DJSF1352

Wall mounted, measure DC voltage, current, power; measure DC energy; direct connect voltage 0-1000V; current measurement supports 75mV output of shunt, supports 0-5V, 0-20mA output of hall; RS485(Modbus protocol)

DJSF1352-RN

Din-rail mounted, support optional two-channel DC voltage, current, power measurement; measure DC energy; direct connect voltage 0-1000V; current measurement support shunt 75mV output, support Hall sensor 0-5V, 0-20mA output; RS485 communication (Modbus protocol)

Shunt

AFL-T

Common Specification: 300A/75mV


Hall Sensor


AHKC

Common Specification: 1000A/5V

Photos on site