Application
It is necessary to real-time monitor the energy consumption and power quality of end load in a smart track busway. Data can be uploaded to the monitoring system by local touch screen through RS485 and it can realize real-time monitoring of the whole power distribution system. At the same time, it can monitor real-time temperature at the busway connector and plug-in box interface to ensure the safe and reliable operation of the busway.
Structure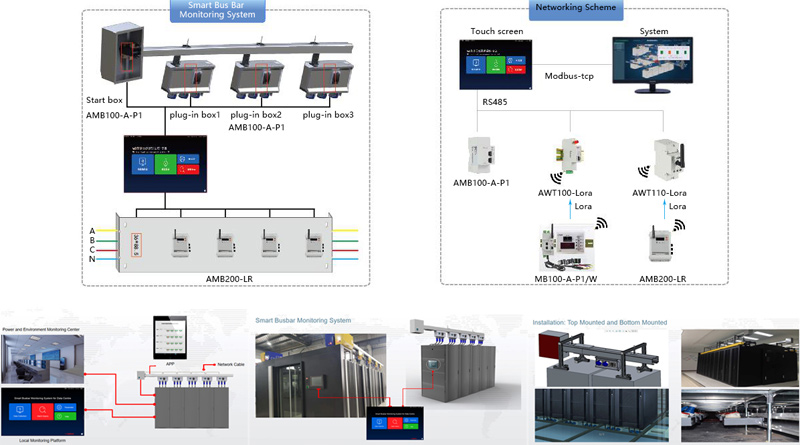 Main Functions
1. AMB100 or AMB110 is usually installed in the busbar start box and plug-in box
2. Measurement: AC or DC busbar voltage, current, harmonics and other parameters.
3. Realize temperature monitoring of the busbar plug interface
4. AMB200 is usually installed at the connector of the dense AC busbar and can monitor temp. And humidity at the connector.
5. Communication: LoRa or RS485
Product Selection
Name

Pic

Model

Main Function

Human Machine Interface Touch Screen HMI

ATP010kt

1. 10-inch touch screen


2. Real-time monitoring and display voltage, current, power, energy, power quality, switch status, wave curve, etc. of the busbar

3. monitoring device alarm, communication and other parameters can be configured on the screen.

4. 2 RS485 and 1 Ethernet, and data can be uploaded by RS485 or RJ45

AC start box monitoring module


AMB100-A-P1

1. Installation: DIN Rail 35mm


2. Measurement:3 phase electrical parameters,2DI2DO,8 temp.,1 leakage current,1 temp. and humidity

3. Communication:1 in 1 out type RJ45 interface(Modbus protocol)

AC plug-in box monitoring module


AMB110-A-P1

1. Installation: DIN Rail 35mm


2. Measurement:3 phase electrical parameters,2DI2DO,4 temp.,1 leakage current,1 temp. and humidity

3. Communication:1 in 1 out type RJ45 interface(Modbus protocol)

DC start box monitoring module

AMB100-D-P1

1. Installation: DIN Rail 35mm


2. Measurement:1 DC circuit electrical parameters,4DI2DO,8 temp.,1 leakage current,1 temp. and humidity

3. ±12V output to power hall current sensor

4. Communication:1 in 1 out type RJ45 interface(Modbus protocol)

DC plug-in box monitoring module

AMB110-D-P1

1. Installation: DIN Rail 35mm


2. Measurement:3 DC circuits electrical parameters,4DI2DO,4 temp.,1 leakage current,1 temp. and humidity

3. ±12V output to power hall current sensor

4. Communication:1 in 1 out type RJ45 interface(Modbus protocol)

AC bus connector temp. measurement device


AMB200-LR

AMB200-C

1. Installation: Fixed on the cover of the busbar connection


2. Contact temp. measurement, measure and display temp. of 4 AC busbars

3. Communication: RS485 or LoRa

DC outgoing line hall effect current sensor


AHKC-BS

Current ratio:100A/5V

Common Specification: 100A/5V
Human Machine Interface

Photos on site