Application
subway, large gymnasium, power plant, petrochemical industry, Pharmaceutical industry, mining industry, Photovoltaic new energy.
Structure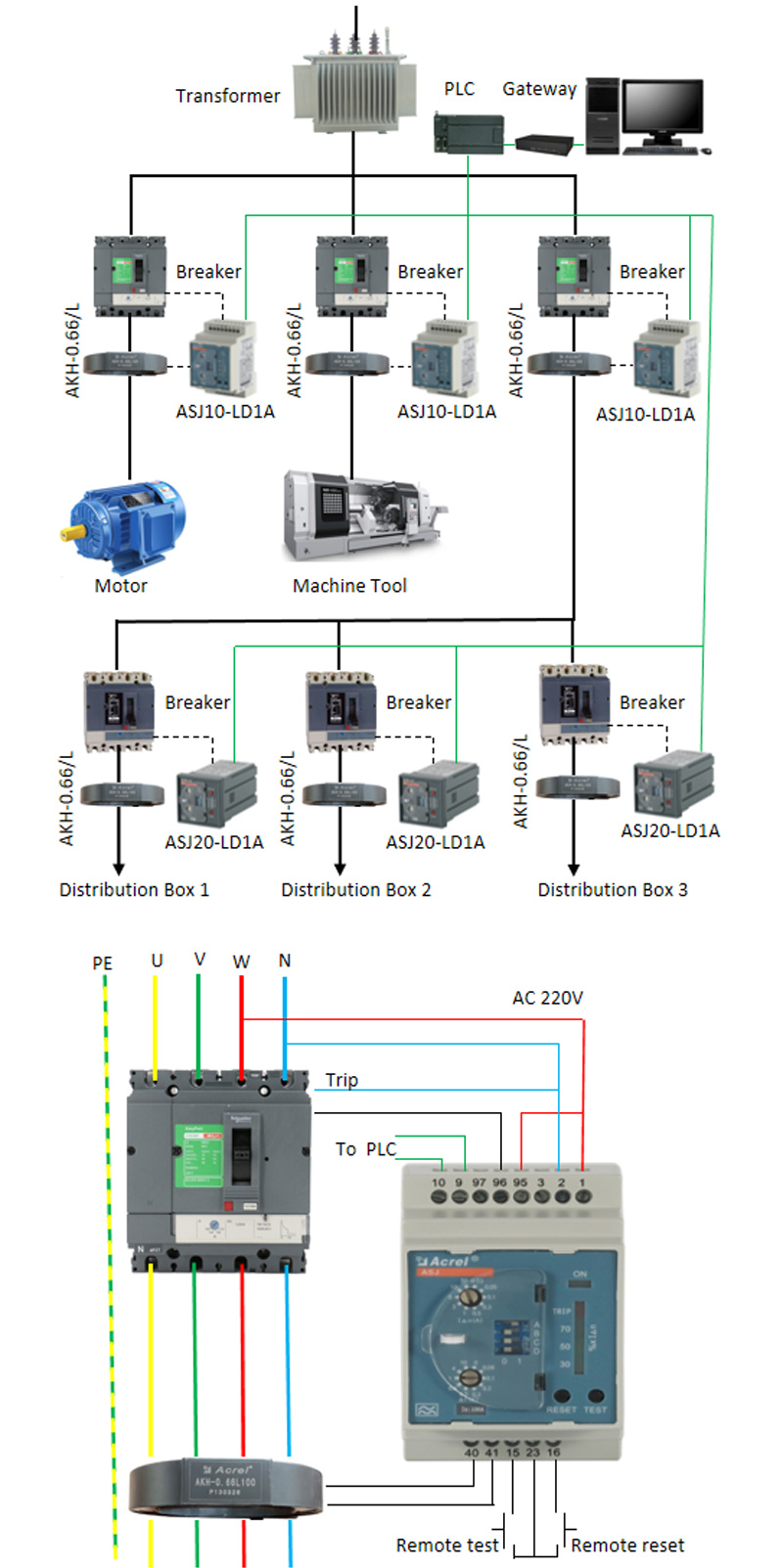 Collect switch signals by PLC, and upload them to the monitoring system

RS485 connection

Main Functions
1) AC contactor or circuit breaker, earth fault protection and fire protection.
2) Adjustable range: 0.03A to 30A.
3) Adjustable range: 0 to 10s.
4) 2DO (warning and alarm)
5) Manual, auto and remote reset
Product Selection
Model

Picture

Installation

Main Function

ASJ10-LD1C

DIN35mm

Monitoring of Type AC leakage current;

Warning at 50% I△n and alarm at I△n;

Adjustable I△n from 0.03 to 0.5A;

Adjustable time delay from 0.1 to 0.5s;

One warning relay, one alarm relay;

Local and remote "TEST", "RESET".

ASJ10-LD1A

Monitoring of Type A leakage current;

LED bar graph display leakage currents;

Adjustment of I∆n from 0.03 to 30 A;

Adjustment of time delay 0 to 10 s;

2 configurable relays;

Local and remote "TEST", "RESET"

ASJ10L- LD1A

Monitoring of Type A leakage current;

Adjustment of I∆n from 0.03 to 30 A;

Adjustment of time delay 0 to 10 s;

2 configurable relays;

Settable toroid disconnect alarm;

Adjustment of pre-alarm value;

Adjustment of auto rest value;

RS485 Optional function;

Local and remote "TEST", "RESET";

SOE fault record

ASJ20-LD1C




Monitoring of Type AC leakage current;

Warning at 50% I△n and alarm at I△n;

Adjustment of I∆n from 0.03 to 0.5 A;

The Adjustable time delay from 0.1 to 0.5s;

One warning relay, one alarm relay;

Local and remote "TEST", "RESET"

ASJ20-LD1C

Monitoring of Type A leakage current

LED bar-graph display leakage currents;

Adjustment of I∆n from 0.03 to 30 A;

Adjustment off time delay 0 to 10 s;

2 configurable relays;

Local and remote "TEST", "RESET"
Accessories: AKH-0.66/L series residual current transformer
Appearance

Model

Rated Load

Ratio

Class

Φ(mm)

L-35

16~100A

5A/5mA

0.5

35

L-70

100~250A

5A/5mA

0.5

70

L-105

250~400A

5A/5mA

0.5

105

L-45

16~100A

5A/5mA

1

45

L-80

100~250A

5A/5mA

1

80

L-100

250~400A

5A/5mA

1

100

L-150

400~800A

5A/5mA

1

150

L-200

800~1500A

5A/5mA

1

200




L-80×50II

16~100A

5A/5mA

0.5

82×52

L-100×50II

16~100A

5A/5mA

0.5

103×55

L-130×50II

100~200A

5A/5mA

0.5

135×55

L-150×130II

100~300A

5A/5mA

0.5

150×133

L-180II

100~200A

5A/5mA

0.5

182×35

L-200×50II

250~400A

5A/5mA

0.5

202×61

L-260×100II

450~800A

5A/5mA

0.5

265×104

L-170 × 30

100~200A

5A/5mA

1

172×34

L-210×160

450~800A

5A/5mA

0.5

210×160
Photos on site