1. Background

As the global fossil energy (oil and coal) is approaching exhaustion, pollution is becoming more and more serious, and the climate is warming, etc., many countries and regions around the world have successively issued regulations and policies, which have promoted the development of the PV industry.
However, due to the large number and concentration of the PV monitoring circuits, a large number of power distribution room space is occupied.
Acrel data center series products have a high level of integration. A single module can monitor 48 circuits, and at the same time, it can also be matched with a switch acquisition module to realize the circuit monitoring of the PV system.
2. Project Brief
One PV system company in the Netherlands provides PV systems for a wide variety of buildings.
In the PV monitoring system of the customer, the current situation of more than 300 loops needs to be monitored at the same time. These loops are centrally in the distribution room. In order to collect information more effectively, the customer chooses the product of AMC16Z-FAK48, so as to complete the monitoring of the circuit without adding cabinets.
3. Product introduction
AMC16Z series multi-loop acquisition module
AC Networking
| | | |
| --- | --- | --- |
| | AMC16Z+ZA, A0 INCONING MODUIE, AM016Z-ZA | A+B 2 channels: The busbar voltage, current, active power, reactive power, power factor, active power, reactive power,2-63 harmonics of the total three-phase inlet line, Neutral line current, zero ground voltage, 6DI2D0,2 channels leakage,1channel temperature and humidity, 1channel R8485 communication. It is equipped with DC24v voltage output to power the shunt module and touch screen |
| | AMC16Z-FAK24, AMC16Z-FAK48, AC outgoing switch & electrical, parameter module, AMC16Z-FAK24, AMC16Z一FAK48 | A+B 2 channels: Three-phase outgoing voltage, 24/ 48 single-phase current, active power, reactive power, power factor,active power, reactive power, 2-31 harmonics, 24/ 48 active switching input, 1 channel R8485 communications |
| | Ac outgoing switch quantity acquisition module, AMC16Z-KA (active), AMC162-KD (passive) | A+B2 channels: Two 24-channel outgoing switch acquisitions, 1 channel R8485 communication |
| | AC outgoing electrical parameters acquisition module, AMC16Z-FA | A+B 2 channels: Two 12-way outlets electric parameter collection, 1 channel R8485 communication |
DC Networking
AMC16Z-ED, DC UBLET MODULE, AM1C6Z-ZD

A+B 2 channels: The bus voltage, current, power and active electric energy of the total incoming line, 6DI2D0,1 channel temperature and humidity, 1 channel R8485 communication, It is equipped with DC24v voltage output to power the shunt module and touchscreen. With 2 ±12v voltage output, power supply to hall sensor on the main road.

AMC16Z一FDK24, AMC16Z-FDK48, Branch Dc outlet module, AMC16Z-FDK24, AMC162一FDK48

A+B 2 channels: Outgoing circuit voltage,24/48 one-sided current, power, electric energy, 24/48 active switching input, 1 channel RS485 communication

AMC162-FD, DC output electrical parameters acquisition module, AMC16Z-FD

A+B 2channels: Two 12-way outlet electric parameter collection, 1 channel R8485 communication

AMC16Z一ZJY

Dc insulation monitoring module

AMC16Z-ZJY

Monitor the bus voltage, bus voltage to ground and bus insulation state of A+Bdouble-channel Dc feed circuit. One line of Rs485 interface is used to connect to touch screen or R8485 hub. Meanwhile, sixRS485 interfaces are equipped for external digital leakage current sensors, which can measure up to 192 branches
4. Networking Solution
AC Networking Solution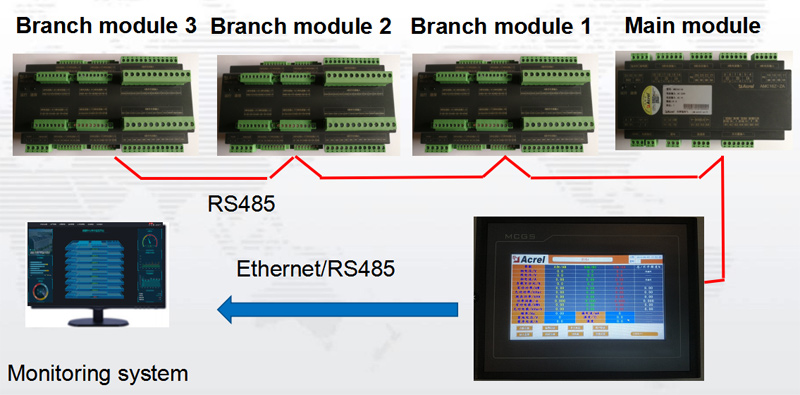 DC Networking Solution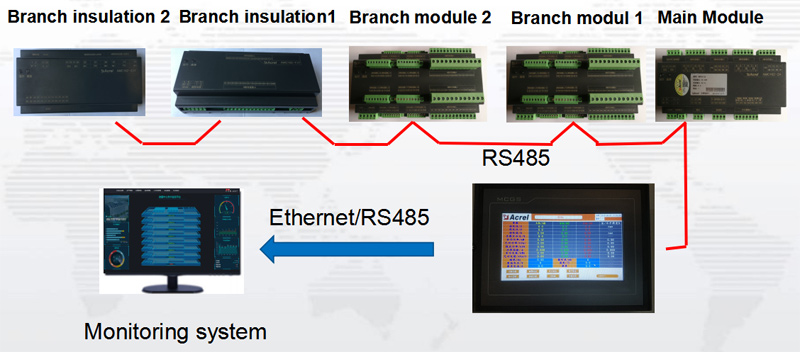 5. Installation sample