1. Overview

Acrel's enterprise energy management and control platform adopts automation, information technology and centralized management mode, and implements centralized and flat dynamic monitoring and data management for the production, transmission and distribution and consumption of the enterprise, and monitors the enterprise's electricity, water, gas, steam and The consumption of various energy sources such as compressed air, through data analysis, mining and trend analysis, helps enterprises to target various energy needs and energy consumption, energy quality, product energy consumption, energy consumption of each process, process, workshop, production line Energy consumption statistics, year-on-year comparison analysis, energy cost analysis, and carbon emission analysis are carried out to provide basic data for enterprises to strengthen energy management, improve energy utilization efficiency, tap energy-saving potential, and energy-saving assessment and support.
2. Application
Steel, petrochemical, metallurgy, non-ferrous metals, mining, medicine, cement, coal, paper, chemical, logistics, food, water plants, power plants, heating stations, rail transit, aviation industry, timber, industrial parks, hospitals, schools, hotels, office buildings and discrete manufacturing industries such as automobile manufacturing, mechanical and electrical equipment, electrical products, and tool manufacturing.
3. System Structure
The site communicates with the platform through the factory local area network, and the platform is built on the server configured by the customer. After the construction is completed, customers can log in to the web page and mobile APP with an authorized account to check the operation of each place in any place that can be connected to the local area network.
The system can be divided into three layers: the field device layer, the network communication layer and the platform management layer.
Field equipment layer: It is mainly connected to various types of instruments used in the network for the acquisition and measurement of water, electricity, gas and other parameters, and is also a necessary basic element for constructing the power distribution, water consumption, and gas consumption system. With the heavy responsibility of collecting data, these devices can be the company's various series of power meters with communication network, temperature and humidity controllers, switching value monitoring modules, as well as water meters, gas meters, and heat and cold meters from qualified suppliers.
Network communication layer: including on-site intelligent gateways, network switches and other equipment. The intelligent gateway actively collects the data of the field device layer equipment, and can perform protocol conversion, data storage, and upload the data to the established database server through the network. The intelligent gateway can store the data locally when the network fails. Continue uploading data from the interrupted position to ensure that server-side data is not lost.
Platform management layer: including application server, WEB server and data server, general application server and WEB server can be configured in one.
The platform is designed with a layered and distributed structure. The detailed topology is as follows: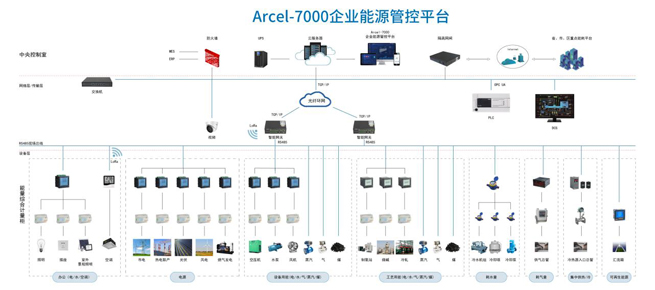 4. System function
The platform adopts automation, information technology and centralized management mode, and implements centralized and flat dynamic monitoring and data management for the production, transmission and distribution and consumption links of enterprises. Real-time monitoring of the consumption of various types of energy in enterprises, through data analysis, mining and trend analysis, to help enterprises strengthen energy management, improve energy utilization efficiency and energy saving potential, and provide data basis for energy-saving transformation.
4.1 Platform login
Open the cloud platform link in the browser, enter the account name and authority password, and log in to prevent unauthorized personnel from browsing the relevant information.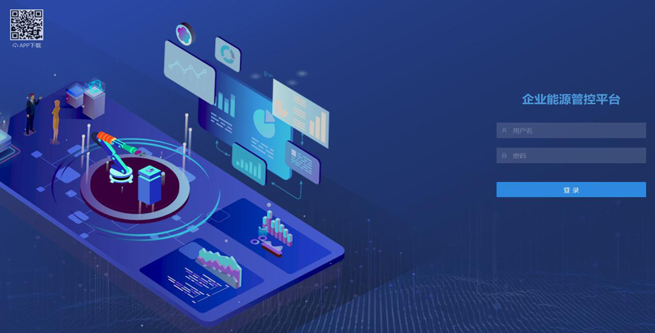 4.2 Large screen display
After the user logs in successfully, they will enter the large-screen display page to display the energy consumption mark, output value, anomaly, ranking, proportion, and communication status of the enterprise and each region.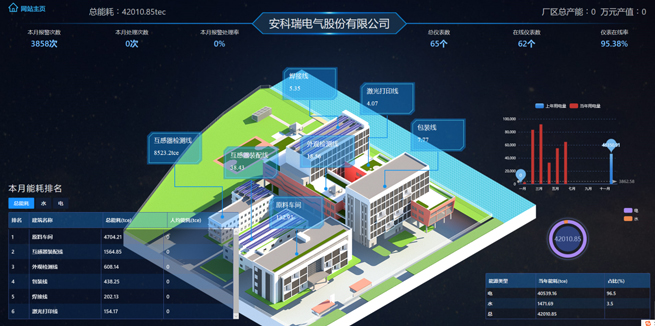 4.3 Home
The homepage displays enterprise-level statistics such as peak-to-valley electricity consumption, transformer status, annual energy consumption trends, unit consumption trends, and classified energy consumption.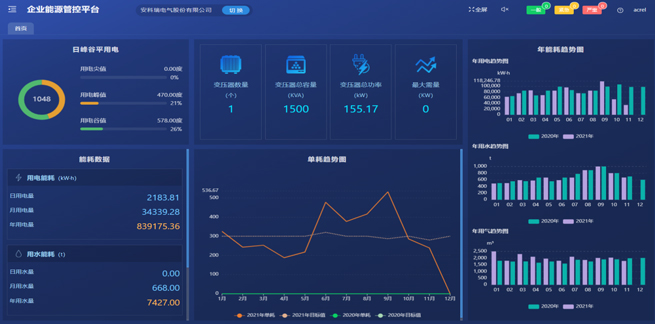 4.4 Data Monitoring
Real-time monitoring of energy usage and alarms at various points of the enterprise. So that enterprise users can monitor the operation of each point in real time, and at the same time can grasp the alarm of the point faster, and provide data support for technical transformation measures such as peak cutting and valley filling, load adjustment and so on.
Real-time monitoring of energy: Real-time monitoring of energy consumption such as water, electricity, and gas to ensure the continuous and stable operation of energy consumption links, and to display functions such as power distribution diagrams, energy flow diagrams, energy balance network diagrams, and energy metering network diagrams.
Energy flow diagram: It is necessary to display the consumption of water, electricity and gas in real time on the energy flow diagram; when the energy parameter exceeds the limit and alarm, it can provide alarm importance classification, and support APP push, mobile phone SMS, email, pin Nail, voice broadcast, system pop-up window alarm prompt, etc.;
Power distribution diagram: Draw the real situation of the power distribution room into the power distribution diagram, and display the real-time parameters of the access control, flooding, electricity, water, gas and other instruments, access control flooding status and energy consumption data in real time.
Real-time statistics: real-time statistics of energy consumption values of factories, workshops, processes, and equipment in the current year, quarter, month, week, day, and shift;
Data display: Display different energy consumption parameters of different areas and different equipment through real-time curves and historical curves;
Detection: Centralized display of energy alarm information, related processing operations can be performed on alarm threshold information, and alarm parameters can be set online. When energy parameters exceed the limit, an alarm can be provided, and alarm importance classification can be provided, with APP push, mobile phone SMS , email, DingTalk, voice broadcast, system pop-up window and other alarm prompts;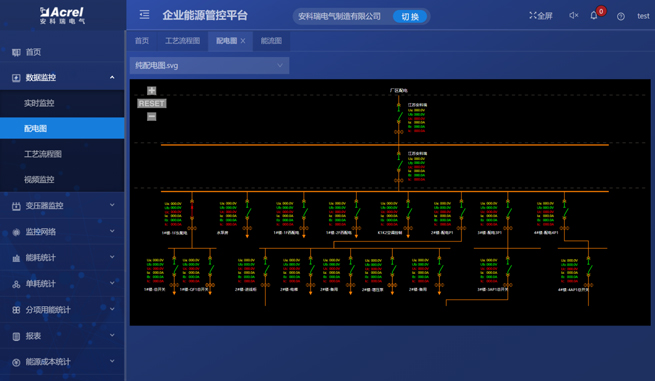 4.5 Video Surveillance
Access the camera to control the actual situation in the enterprise in real time.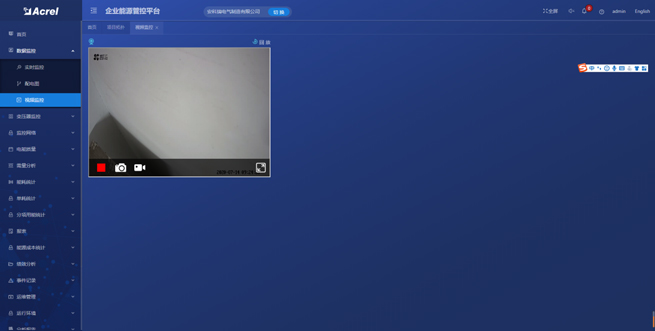 4.6 Transformer Monitoring
Show the load of each voltage device, so as to make scientific and reasonable planning for the transformer configuration. Through the comparative analysis of the power consumption efficiency under various operating parameters, a better operating mode is found. The load is adjusted according to the operation mode, thereby reducing the unit consumption of electricity and reducing the power loss.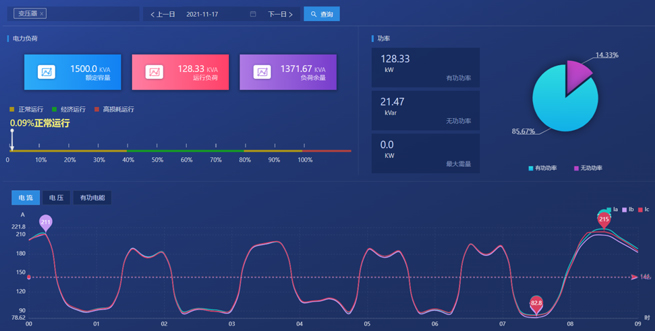 4.7 Real-time monitoring of instruments
Display the real-time parameter changes of each water and electricity instrument in the form of a graph.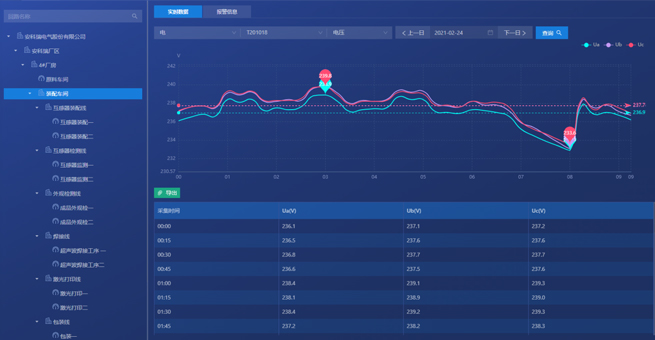 4.8 Energy central control
All energy-related energy parameters are concentrated in one dashboard, which can be compared and analyzed from multiple dimensions to realize the comparison of various industrial lines, and help leaders control the energy consumption, energy cost, standard coal emission, etc. of the entire factory.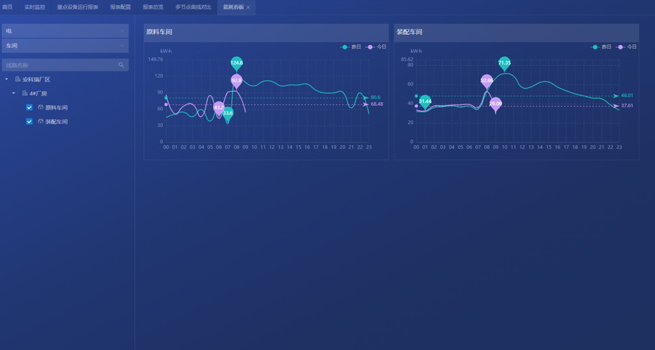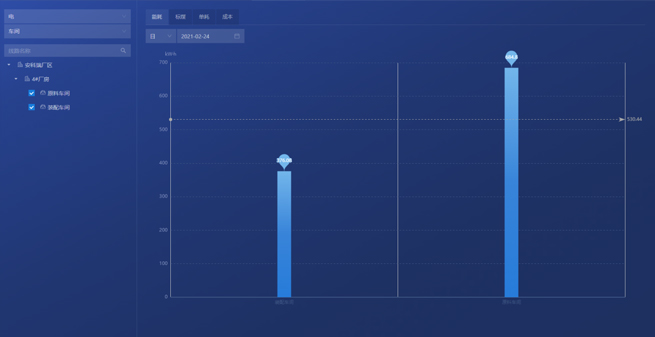 4.9 Energy usage statistics
From the dimensions of energy use type, monitoring area, workshop, production process, process, work section time, equipment, team, sub-item and other dimensions, the use of curves, pie charts, histograms, cumulative charts, digital tables and other methods to calculate the energy consumption of enterprises, year-on-year , chain analysis, performance analysis, standard comparison, energy consumption per unit product, energy consumption per unit output value statistics, find out loopholes and unreasonable places in the process of energy use, so as to adjust the energy distribution strategy and reduce waste in the process of energy use.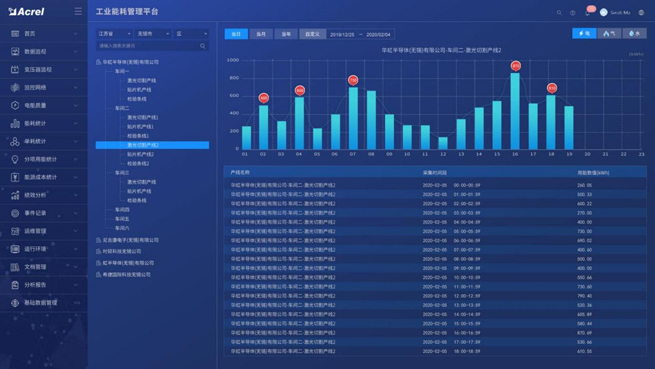 4.10 Cost Analysis
Statistics of various energy consumption costs of each monitoring node (factory, workshop) in the current year, quarter, month, week and day, including electricity including peak electricity, peak electricity, valley electricity, valley electricity, average electricity and average electricity.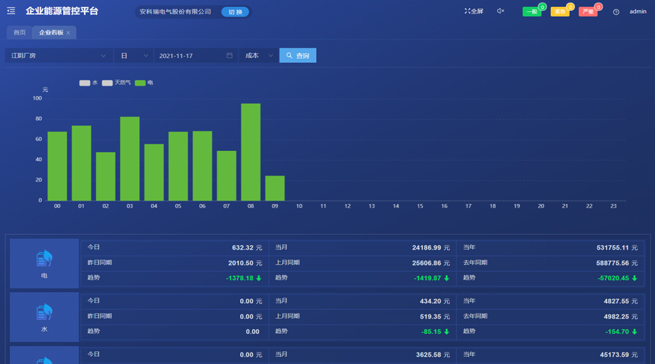 4.11 Statistics of Product Unit Consumption
Connecting with the enterprise MES system, through the product output and the energy consumption data collected by the system, the product unit consumption trend graph is generated in the product unit consumption, and the year-on-year and month-on-month analysis is carried out. At the same time, the unit consumption of the product is benchmarked with the industry/national/international advanced indicators, so that the enterprise can adjust the production process according to the unit consumption of the product, thereby reducing energy consumption.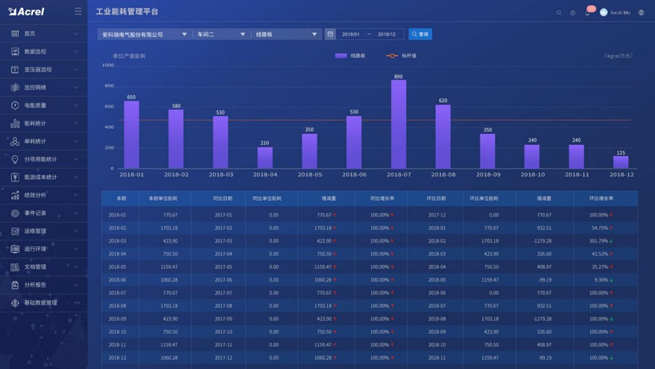 4.12 Performance Analysis
Perform daily, weekly, monthly, annual, and specified performance statistics on the use, consumption, and conversion of various types of energy by teams, regions, workshops, production lines, sections, and equipment. Perform KPI comparison assessments based on performance indicators formulated in energy plans or quotas , to help companies understand the internal energy efficiency level and energy saving potential, and assess whether the energy consumption is reasonable.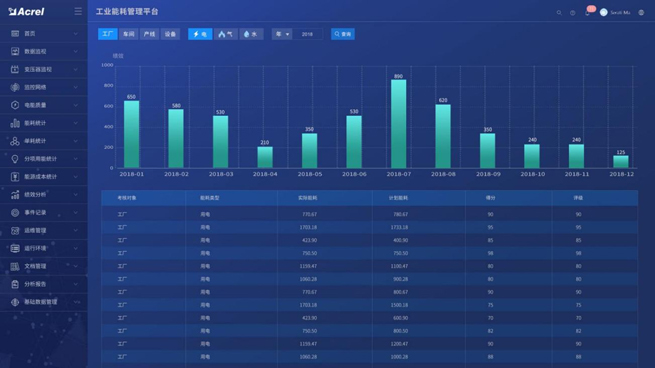 4.13 Operation Monitoring
The system collects data on energy consumption of areas, workshops, and equipment, monitors equipment and process operating status, such as temperature, humidity, flow, pressure, speed, etc., and supports one-time operation monitoring of power transformation and distribution systems. You can quickly browse the managed energy consumption data directly from the dynamic monitoring floor plan, and support querying related energy consumption by energy type, workshop, work section, time and other dimensions.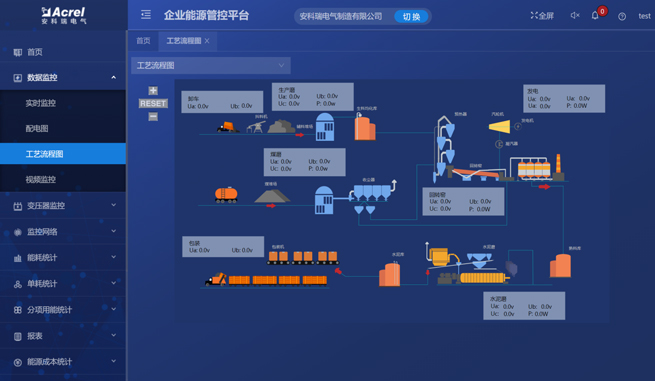 4.14 Custom Energy Consumption Report
Users can flexibly produce various reports by customizing report headers and columns, view the energy consumption, unit consumption, cost, comprehensive energy consumption and other information of each node of the enterprise, and report year-on-year and month-on-month reports, and support exporting reports.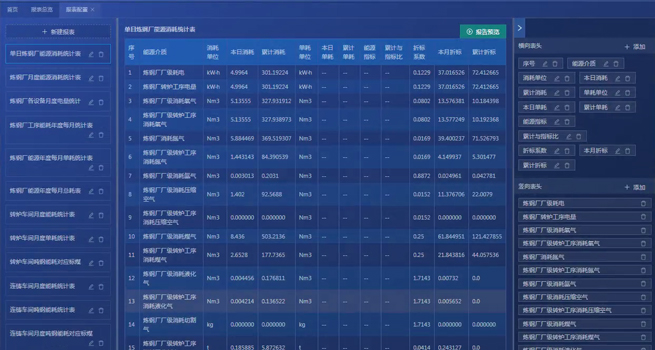 4.15 YoY, MoM
Provides graphical comparative analysis of energy consumption costs, including year-on-year and chain-by-period analysis by time period (day, month, year), and statistical graph comparison analysis by classification, time period, and item (location, institution, equipment) (bar chart, pie chart, stacked charts, etc.).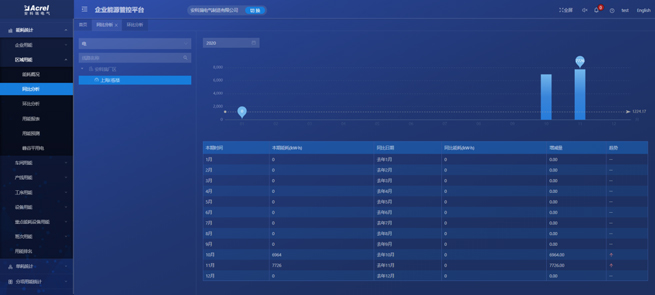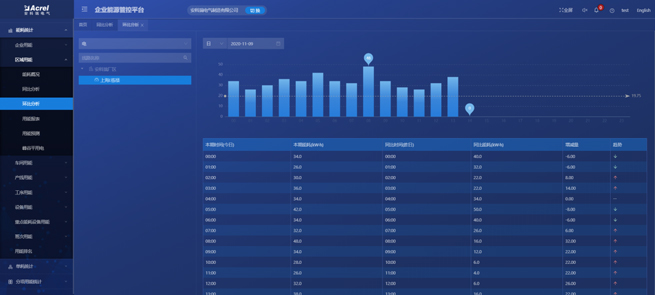 4.16 Analysis report
Carry out careful statistical analysis of the company's energy utilization, line loss, equipment operation, and operation and maintenance by year, month, and day, so that users can better understand the operation of the system, and provide users with a data basis to facilitate users to discover equipment abnormality, so as to identify improvement points and tap energy saving potential for energy consumption.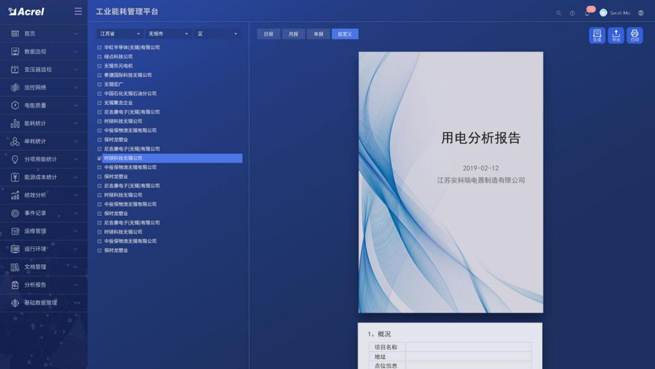 4.17 Energy consumption of energy-consuming equipment
Monitor the operation, shutdown and abnormal status of energy-consuming equipment, and timely solve equipment failures and shutdowns that cause normal production.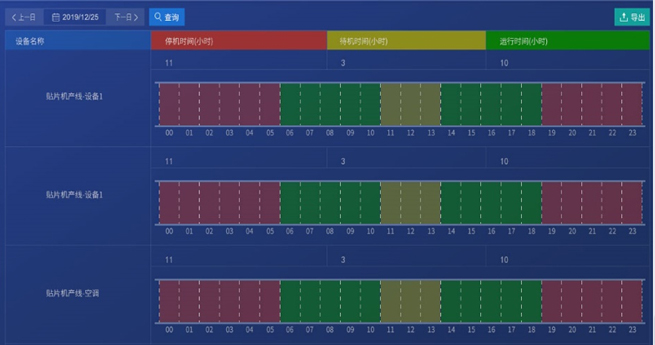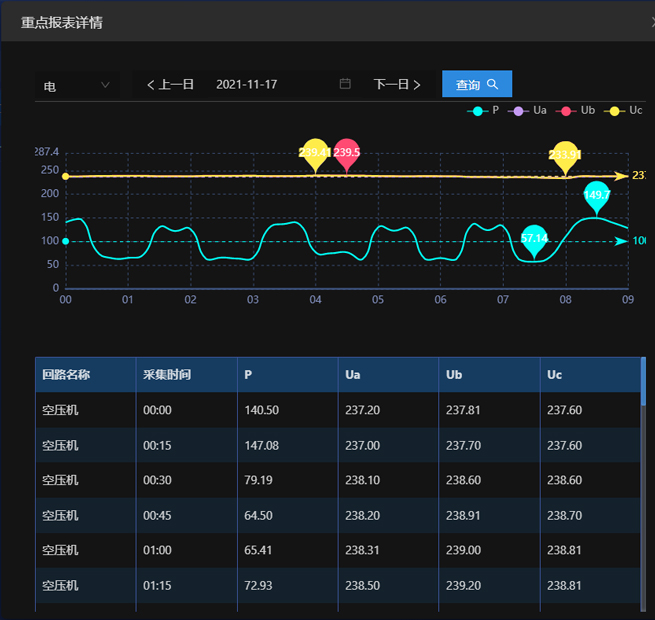 4.18 Line loss analysis
According to the node and energy classification, query the energy consumption data on the line of each node, find out the waste of energy in the process of use, such as leakage and abnormal energy consumption, and remind users to intervene in time.

4.19 Carbon Emission Management
Statistics on the change trend of total carbon emissions by region are carried out, and year-on-year analysis is carried out. Calculate the carbon emissions per unit of output value, and combine the emission reduction indicators to achieve early warning of exceeding the standard, improve the regional emission reduction level, and promote the realization of the carbon peak target.
4.20 Power Quality Monitoring
Real-time monitoring of harmonic content, three-phase unbalance, power factor, etc., to ensure that the power factor is not lower than the assessment index of the power supply bureau, to avoid fines and equipment failures.
4.21 Operation and maintenance management
The system supports equipment operation and maintenance management such as daily equipment inspection plans, dispatching workers, eliminating shortages, applying for repairs, dispatching workers, etc., which is convenient for operation managers to formulate inspection plans, dispatch workers, and inspectors to perform inspections, complete work orders, and inspections Find problems and eliminate deficiencies, report faults for repairs, follow up maintenance progress, and meet the needs of daily inspections and equipment maintenance.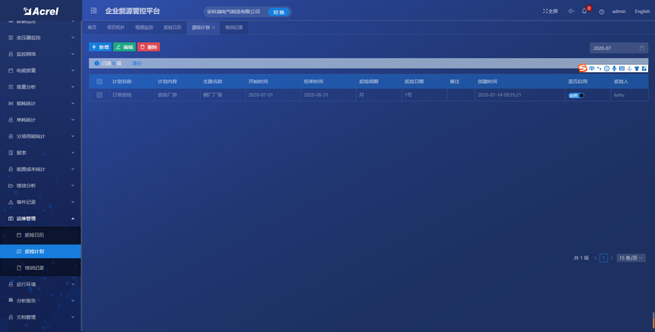 4.22 Alarm Management
Aiming at the normal development of electricity, the dual control of power limitation and energy consumption, it can realize the alarm of abnormal electrical parameters, the alarm of electrical fire hazards, the alarm of energy consumption exceeding the standard, the alarm of power limitation, etc., to help enterprises give early warning and avoid fire accidents and energy consumption caused by fines. Cost is too high. Supports hierarchical and classified alarms, and can distribute and close-loop alarms.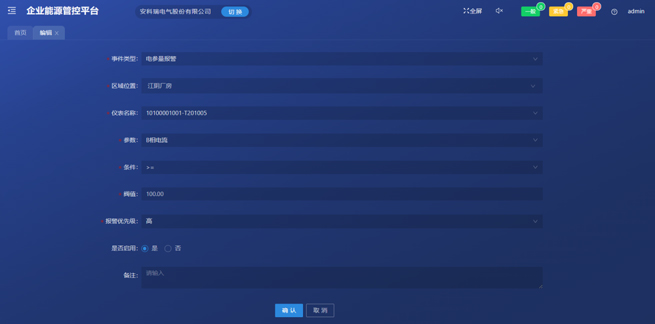 4.23 Energy consumption meter reading
The meter reading value and difference value of the meter reading instrument in the time period can be customized, and the classification and sub-item of the meter reading can be customized.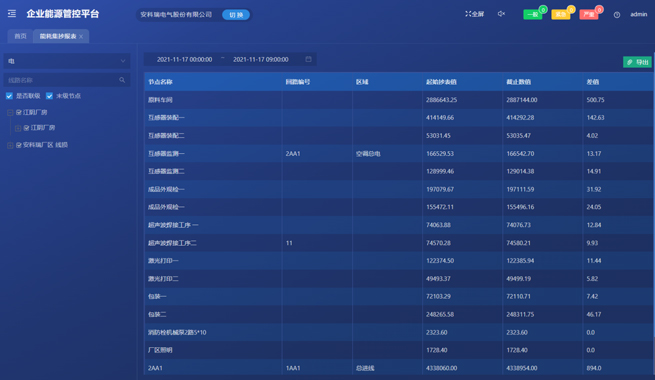 4.24 Energy consumption analysis custom time meter reading
The energy consumption value of each topology node in the time period can be customized, and the classification and sub-item of the energy consumption value of meter reading can be customized.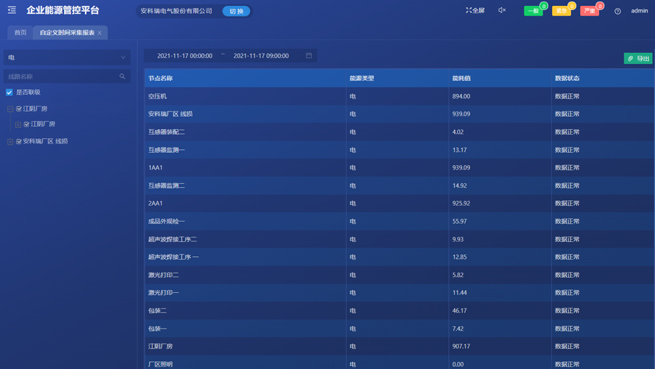 4.25 Capacity Demand Report
Provide capacity demand report, real-time display of capacity demand price changes, help enterprises realize capacity change and reduce basic electricity bills.
4.26 Multi-rate report
Statistical analysis of peak, peak, flat, and valley electricity consumption and costs, providing data support for enterprises to use electricity by time and optimize cost-effectiveness.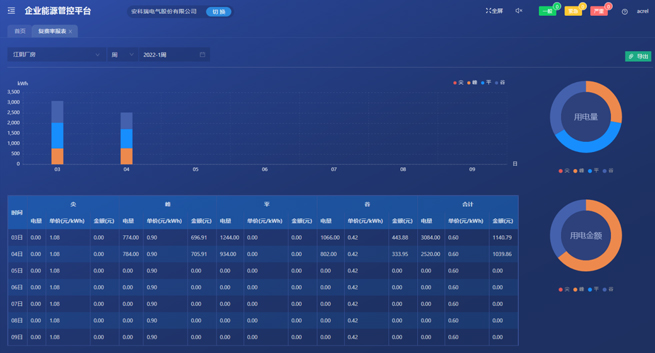 4.27 Document Management
Documents such as national standards, energy management systems, and energy index systems can be archived, and related documents can be quickly inquired. System management of instrument ledger, support for uploading and downloading of files.

4.28 3D Visualization Large Screen
Virtual simulation of the scene, showing the operation and energy consumption of each area, can achieve layered preview, transition display, style switching, intelligent inspection and other effects, support the custom binding of models and monitoring points.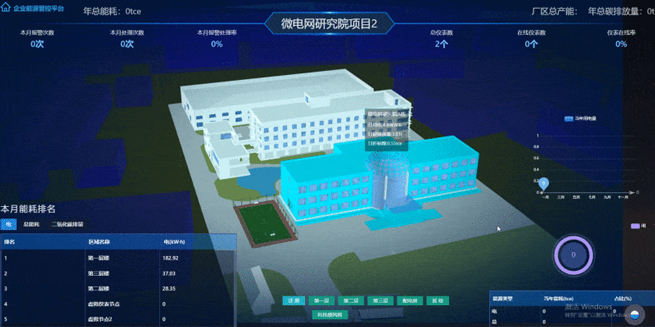 4.29 3D Subsystem
Perform virtual simulation of each power subsystem to display the real-time status and energy consumption of the power pipeline of the subsystem, equipment, and energy consumption, so as to realize the dynamic energy flow effect.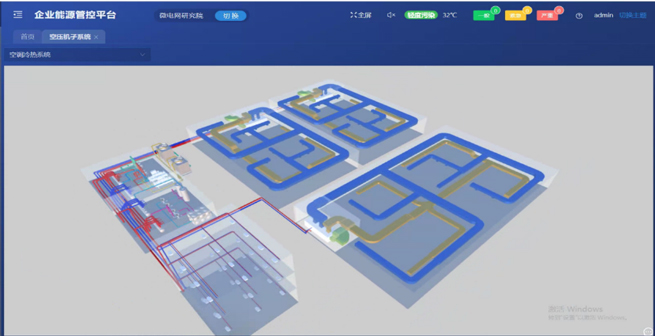 4.30 Industrial configuration
The configuration diagram can be customized by graphical editing to display the operating status and energy consumption of the equipment, and custom materials can be uploaded and monitoring data can be bound.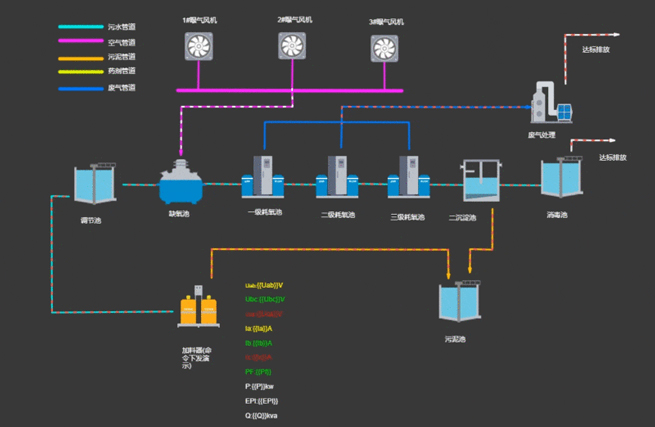 4.31 Custom Cockpit
The cockpit can be customized through a graphical operation mode, and the collected data and various statistical data can be displayed in graphs such as line charts, pie charts, and tables. The data sources include API, database query, MQTT, Excel, etc.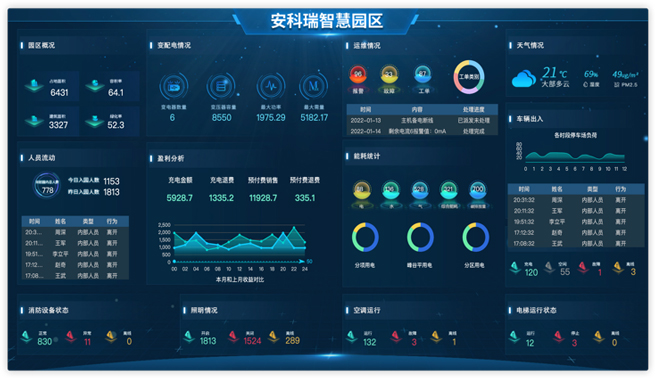 4.32 Basic data management
Configure, modify, delete and manage items, detectors, equipment models, electrical parameters, nodes, energy, publicity, and related parameters of the system, and manage user additions, authorization, and contracts.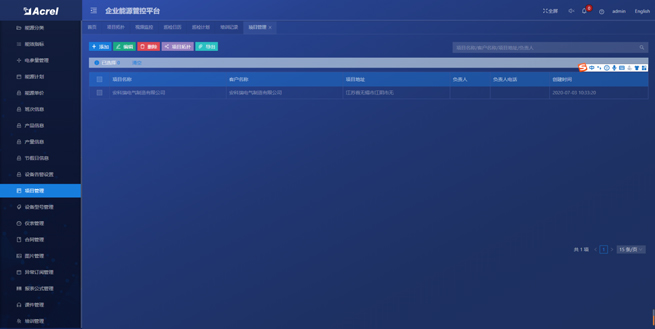 4.33 Mobile APP
The APP supports Android and iOS operating systems, which is convenient for users to master enterprise energy consumption, production line comparison, efficiency analysis, year-on-month analysis, energy consumption markdown, and event records according to different dimensions such as energy classification, area, workshop, process, team, and equipment. , Operation monitoring, abnormal alarm, power distribution diagram, process flow diagram, energy flow diagram.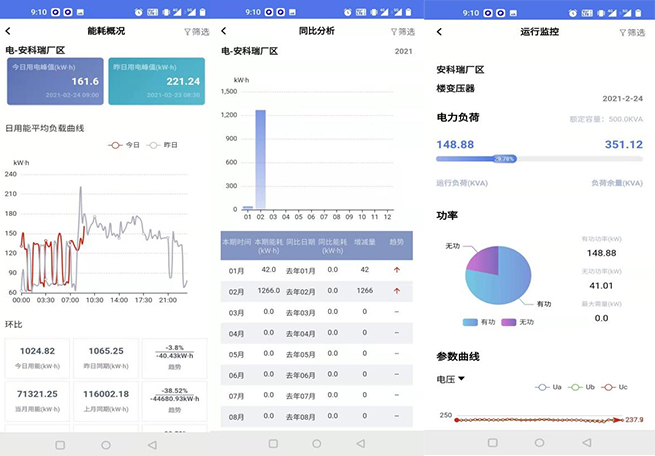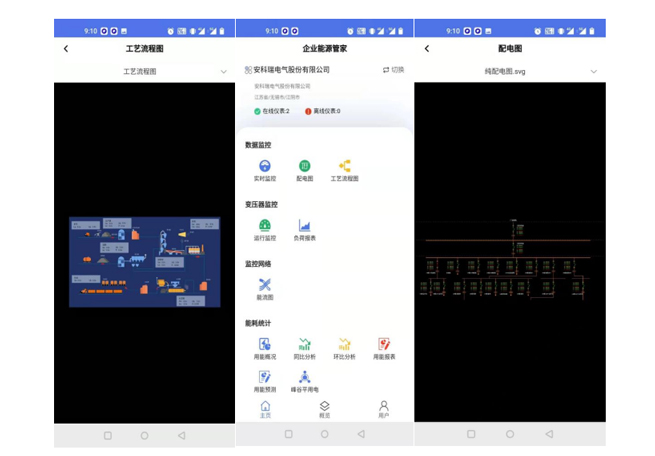 4.34 Intellectual Property Certificate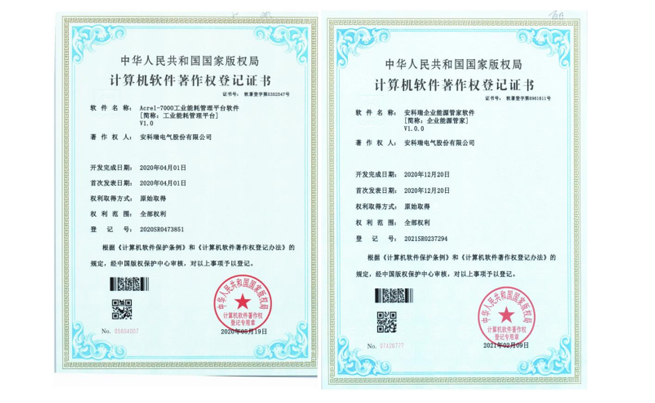 5. System hardware configuration
Application

Model

Photo

Protective function

Enterprise energy management and control platform

Acrel-7000

Acrel's enterprise energy management and control platform adopts automation, information technology and centralized management mode, and implements centralized and flat dynamic monitoring and data management for the production, transmission and distribution and consumption of the enterprise, and monitors the enterprise's electricity, water, gas, steam and Compressed air and other energy consumption.

Smart Gateway

Anet-2E8S1

8 RS485 serial ports, optocoupler isolation, 2 Ethernet interfaces, support ModbusRtu, ModbusTCP, DL/T645-1997, DL/T645-2007, CJT188-2004, OPC UA and other protocols data access, ModbusTCP (master, slave ), 104 (master, slave), building energy consumption, SNMP, MQTT and other protocols to upload, support different protocols to forward data to multiple platforms; input power supply: AC/DC 220V, rail type installation.

ANet-2E4SM

4 RS485 serial ports, optocoupler isolation, 2 Ethernet interfaces, support ModbusRtu, ModbusTCP, DL/T645-1997, DL/T645-2007, CJT188-2004, OPC UA, ModbusTCP (master, slave), 104 (master, Slave), building energy consumption, SNMP, MQTT; (main module) Input power: DC 12 V ~ 36 V. Support 4G expansion module, 485 expansion module.

ANet-485

M485 module: 4-way optocoupler isolation RS485

ANet-M4G

M4G module: support 4G full Netcom

35kV/10kV/6kV incoming line

AM5SE-F

Three-stage overcurrent protection, inverse-time overcurrent protection, two-stage zero-sequence 101 overcurrent/inverse-time overcurrent protection, two-stage zero-sequence 102 overcurrent/inverse-time overcurrent protection, reclosing, post-acceleration overcurrent Protection, overload protection, PT disconnection alarm, control loop fault alarm, frequency protection, FC blocking, voltage loss trip, reverse power protection, overvoltage protection, zero sequence overvoltage protection; circuit breaker remote opening/closing operation; fault Wave recording; independent operation loop; synchronization detection; measurement of electrical parameters such as U, I, P, Q, Ep, Eq, etc.

35kV/10kV/6kV feeder

distribution transformer

AM5SE-T

Three-stage overcurrent protection, inverse time overcurrent protection, two-stage zero-sequence 101 overcurrent protection, two-stage zero-sequence 102 overcurrent protection, 101 inverse time overcurrent protection, 102 inverse time overcurrent protection, overload protection , PT disconnection alarm, control circuit fault alarm, non-electrical protection, FC blocking; circuit breaker remote opening/closing operation; fault recording; independent operation loop; U, I, P, Q, Ep, Eq and other electrical parameters Measurement.




Motor (below 2000KW)

AM5SE-M

Overcurrent stage 1 protection (starting, running), overcurrent stage 2

Protection, inverse time overcurrent protection, two-stage negative sequence overcurrent/negative sequence

Inverse-time overcurrent protection, two-stage zero-sequence overcurrent protection, thermal overload protection, overload protection, stall protection, long startup time protection, low voltage protection, non-electricity protection, PT disconnection alarm, control loop failure alarm , zero sequence overvoltage alarm, FC closed

Lock, voltage unbalance protection, phase sequence protection, voltage phase failure protection

protection, overvoltage protection; circuit breaker remote opening/closing operation; therefore

Obstacle recording; independent operating loop; U, I, P, Q, Ep,

Eq isoelectric parameter measurement.

35kV/10kV/6kV bus tie

AM5SE-B

Two-stage overcurrent protection, inverse-time overcurrent protection, post-acceleration overcurrent protection, incoming line standby/bus joint standby/joint switching standby/self-adaptive standby, PT disconnection alarm, control loop fault alarm, busbar Charging protection; circuit breaker remote opening/closing operation; fault recording; independent operation loop check synchronization.

35KV/10kV/6kV capacitor

AM5SE-C

Two-stage definite-time overcurrent protection, inverse-time overcurrent protection, two-stage zero-sequence overcurrent protection, undervoltage protection, overvoltage protection, zero-sequence overvoltage protection, unbalanced voltage protection, unbalanced current protection, non-electricity Protection, PT disconnection alarm, control circuit fault alarm; circuit breaker remote opening/closing operation; fault recording; independent operation circuit; U, I, P, Q, Ep, Eq and other electrical parameters measurement.

Main transformer

AM5SE-D2

Two-ring variable differential quick-break protection, ratio braking differential protection

Main transformer

AM5SE-TB

Three-stage overcurrent protection (with compound voltage, with directional blocking), inverse time overcurrent protection, zero-sequence overcurrent protection, gap zero-sequence current protection, zero-sequence voltage protection, overload protection, start ventilation, blocking on-load regulation Voltage, circuit breaker remote control opening and closing

Gate, fault recording, full power measurement, independent operation loop, remote control upshift/downshift/emergency stop, transformer gear measurement; U, 1, P, Q, Ep, Eq and other electrical parameters measurement.

PT side by side monitoring

AM5SE-UB

PT parallel, low voltage alarm, PT disconnection alarm, overvoltage alarm, zero sequence overvoltage alarm

High power asynchronous motor

AM5SE-MD

Motor differential quick-break protection, ratio differential protection, one-stage overcurrent protection during startup, running definite time overcurrent protection, overload protection, zero-sequence overcurrent protection, overheating protection, stall protection, low voltage protection, circuit breaker remote control Opening and closing, independent operation circuit, fault recording, full power measurement; U, I, P, Q, Ep, Eq and other electrical parameters measurement.

Main transformer protection

AM5SE-D3

Three-turn variable differential quick-break protection, ratio brake differential protection




Main transformer public measurement and control, incoming line public measurement and control

AM5SE-K

20-way remote signaling, 10-way outbound, telemetry



















35kV/10kV/6kV arc protection




ARB5-M




It measures all common power parameters, such as three-phase current, voltage, active and reactive power, electrical degrees, harmonics, etc., and has perfect communication networking functions, which is very suitable for real-time power monitoring systems.

ARB5-E

DIN35mm rail type installation structure, small size, can measure electric energy and other electrical parameters, can set clock, tariff period and other parameters, high precision, good reliability, performance indicators in line with national standards GB/T17215-2002, GB/T17883-1999 It meets the technical requirements of the electric energy meter in accordance with the electric power industry standard DL/T614-2007, and has the function of electric energy pulse output; the RS485 communication interface can be used to realize data exchange with the host computer.

ARB5-S

Three-phase full power measurement, residual current, 2-63 harmonics, support payment rate, value, cable temperature, optional 2G/4G communication.

On-line monitoring of power quality of 35kV/10kV/6kV incoming cabinet

APView500

Phase voltage and current + zero-sequence voltage and zero-sequence current, voltage and current unbalance, active and reactive power and energy, event alarm and fault recording, harmonics (voltage/current 63 harmonics, 50 sets of interharmonics, 35 sets of High-order harmonics, harmonic content rate, harmonic power, harmonic distortion rate, K factor), fluctuation/flicker, voltage swell, voltage sag (fault source location), voltage interruption, inrush current, 1024-point waveform Sampling, timing recording, power quality pass rate statistics, real-time waveform display and fault waveform viewing, memory 32G, 16DO+22DI, 2RS485+1RS232+1GPS, +3 Ethernet interface +1WiFi+1USB interface Support U disk everywhere data, support 61850 protocol.

35kV/10kV/6kV interval intelligent control, node temperature measurement

ASD500

The LCD screen displays the dynamic simulation diagram of the primary circuit, the spring energy storage indicator, the high-voltage live display and the blocking, the electricity inspection, the nuclear phase, the 3-way temperature and humidity control and display, the remote/local, the opening and closing, the energy storage knob, the pre-setting and pre-setting. Closing flash indication, opening and closing intact indication, opening and closing circuit voltage measurement, human body induction, lighting control in the cabinet, 1 Ethernet, 2 RS485, 1 USB interface, GPS time synchronization, wireless measurement of electrical contacts in high-voltage cabinets Temperature, full electric parameter temperature measurement, pulse output, 4~20mA output

35kV/10kV/6kV sensor

ATE400

The alloy sheet is fixed, the CT induction power is obtained, the starting current is greater than 5 amperes, the temperature measurement range is -50-125 °C, and the measurement accuracy is ±1 °C; the transmission distance is 150 meters in the open.

35kV/10kV/6kV interval

Electrical parameter measurement

APM810

Three-phase (I, U, kW, kvar, kWh, kvarh, Hz, cosΦ), zero-sequence current In, four-quadrant energy, real-time and demand, peak value of this month and last month, current and voltage unbalance, 66 types 16 event records for each alarm type and external event (SOE), support SD card expansion record, 2-63 harmonics, 2DI+2DO, RS485/Modbus, LCD display

Low voltage incoming line

APM810

Three-phase (I, U, kW, kvar, kWh, kvarh, Hz, cosΦ), zero-sequence current In; four-quadrant energy; real-time and demand; peak value of this month and last month; current and voltage unbalance; load current Bar graph display; 66 alarm types and 16 event records for external events (SOE), support SD card expansion record; 2-63 harmonics; 2DI+2DO RS485/Modbus; LCD display

AEM96

Three-phase electrical parameters U, I, P, Q, S, PF, F measurement, total forward and reverse active energy statistics, forward and reverse reactive energy statistics; 2-31 times sub-harmonic and total harmonic content analysis, Split-phase harmonic and fundamental wave electrical parameters (voltage, current, power); current specification 3×1.5(6)A, active energy accuracy 0.5S, reactive energy accuracy 2

0.4kV reactive power compensation

ARC




Measure I, U, Hz, cosΦ, with over-voltage protection, under-current lockout, excessive power grid harmonic protection functions, can control the switching of capacitors, RS485/Modbus protocol

APM810

Three-phase (I, U, kW, kvar, kWh, kvarh, Hz, cosΦ), zero-sequence current In, four-quadrant energy, real-time and demand, peak value of this month and last month, current and voltage unbalance, 66 types 16 event records for each alarm type and external event (SOE), support SD card expansion record, 2-63 harmonics, 2DI+2DO, RS485/Modbus, LCD display

ANSVC

The ANSVC low-voltage reactive power compensation device is connected in parallel in the entire power supply system, and can control the switching of power capacitors for compensation according to the change of the load power factor in the power grid.

0.4kV active filter

AnSin-£-M

Ⅰ型

It adopts DSP+FPGA full digital control mode, which is connected in parallel in the system to supplement harmonics and reactive power; it can fully compensate the 2nd to 51st harmonics or specify specific harmonics for compensation; it has perfect bridge arm overcurrent protection , DC over-voltage protection, device over-temperature protection functions; remote signaling and remote control software platform based on Google Fliutter framework, with remote service and data processing functions; support for IOS, Android, PC multi-platform interaction; with leading and lagging power factors Correction function, which can adjust the three-phase unbalanced load to balance; with dynamic over-temperature load reduction function to ensure the continuous operation of the filter to the greatest extent; with intelligent fan speed control function, intelligently control the fan speed according to the load rate and ambient temperature , reduce loss; with dynamic expansion function.

0.4kV outlet

AEM72

Three-phase electrical parameters U, I, P, Q, S, PF, F measurement, total forward and reverse active energy statistics, forward and reverse reactive energy statistics; 2-31 times sub-harmonic and total harmonic content analysis, Split-phase harmonic and fundamental wave electrical parameters (voltage, current, power); current specification 3×1.5(6)A, active energy accuracy 0.5S, reactive energy accuracy 2

ARD3M

ARD3 intelligent motor protector is suitable for motors with rated voltage up to AC690V, rated current up to AC800A, and rated frequency of 50/60Hz. It can form a motor control and protection unit with electrical components such as contactors and motor starters. Control, panel indication, signal alarm, field bus communication and other functions.

ANHPD300

It has the function of absorbing random high-order harmonics, pulse peaks, and surges generated by electrical equipment. It can effectively filter out voltage spike clutter, correct the distorted voltage waveform, digest and absorb harmonic noise, and prevent the protection device from being mistaken. Trip to ensure the normal operation of electrical equipment.

DTSD1352

Three-phase electrical parameters U, I, P, Q, S, PF, F measurement, separate-phase forward active energy statistics, total forward and reverse active energy statistics, total forward and reverse reactive energy statistics; infrared communication; current specifications: It is connected to 3×1(6)A through the transformer, and directly connected to 3×10(80)A. The accuracy of active energy is 0.5S, and the accuracy of reactive energy is 2

Transformer winding temperature detection

ARTM-8

8-channel temperature inspection, thermal resistance signal input, RS485 interface, 2-channel relay output, pre-embedded PT100

Transformer joint temperature measurement,

Temperature measurement of low-voltage inlet and outlet cabinet connectors

ARTM-Pn-E

It can be embedded in the low-voltage cabinet panel, and each device can receive data from 60 wireless sensors. The device has a 485 interface, which can upload the collected temperature data to the monitor. 2 alarm exits, all electric parameter measurement

ATE400

The alloy sheet is fixed, the CT induction power is obtained, the starting current is greater than 5 (A), the temperature measurement range is -50-125 °C, and the measurement accuracy is ±1 °C; the transmission distance is 150 meters in the open.

Matching accessories

AKH-0.66

Measuring transformer, collecting AC current signal

AKH-0.66L

Residual current transformer, collect residual current signal.

Ambient temperature and humidity in the cabinet

AHE

Wireless temperature and humidity sensor, temperature accuracy: ±1℃, humidity accuracy: ±3%RH, transmission frequency: 5min, transmission distance: 200m, battery life: ≥3 years (replaceable)

ATC600

Two working modes: terminal, relay. ATC600-Z does relay transparent transmission, the transmission distance from ATC600-Z to ATC600-C is 1000m, ATC600-C can receive data transmitted by AHE, 1 channel 485, 2 channels alarm outlet.

Smart remote water meter

IoT water meter LXSY-O-M/NB

Electronic direct reading type, high-definition liquid crystal display, with automatic error correction function; each parameter can be set; data can be stored for more than 10 years after power failure; remote control valve switch function can be extended as needed; long-term work at 120 ℃, hydrolysis Stable; strong acid and alkali corrosion resistance, not easy to be corroded, good flame retardant performance; water resources are free from secondary pollution

Intelligent remote transmission gas meter

gas meter

Directly read the window value of the gas meter without accumulative error; the electronic part may not work at ordinary times, but can work at the moment of reading the meter; the direct-reading gas meter does not need to be initialized; the meter address can be set flexibly

Heat and cold meter

Heat and cold meter

Flow measurement has no mechanical gear, no magnetic sensor, wear-resistant, corrosion-resistant, anti-attack; automatic alarm when the voltage is low or damaged by attack; automatic alarm when the temperature sensor is open or short-circuited; flow and temperature segmentation, high accuracy; temperature The hot and cold ends are corrected and calibrated by digital methods, and the error is close to 0; intelligent consumption reduction according to the flow rate; automatic error correction technology for multiple data backups; low power consumption