1. General

ACREL intelligent busbar monitoring products are divided into AC and DC bus monitoring products, including the monitoring module of the starting box, the monitoring module of the plug box and the touch screen. In addition, it can also be used with the infrared temperature measurement module of the bus duct connector to monitor the operating temperature of the bus duct to ensure the safety of the busbar distribution.
2. Application Scenario
The AMB series, such as Branch Circuit power meter and branch circuit metering, busbar monitoring system can be used not only in the data centers of operator, Internet, finance, electricity, education, scientific research and other industries, but also in the fields of metallurgy, mining, energy, chemical industry, automobile manufacturing, large venues and other fields.
3. System Structure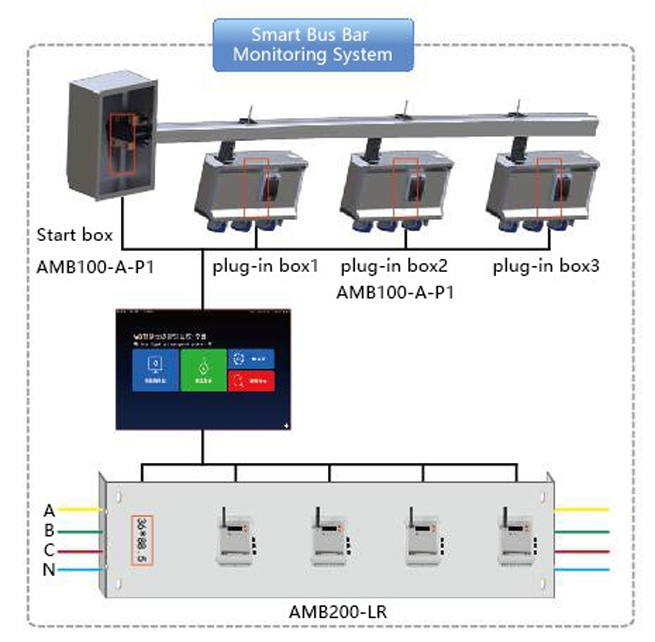 4. System Function
4.1 Main menu
The user logs in the main menu page, which displays four modules: data collection, alarm query, parameter setting and help. Click any module to enter the corresponding interface for data viewing, parameter and function editing.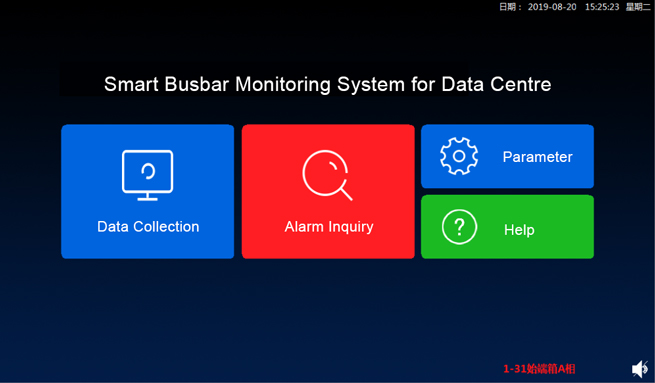 4.2 Real time monitoring
Click the data collection button on the home page to enter the system diagram interface: this interface displays the voltage of each box.
4.3 Basic parameter interface
Display voltage, current, power and other electrical parameter data. Input the corresponding energy meter address of the box in the input box next to the equipment address to collect the meter data.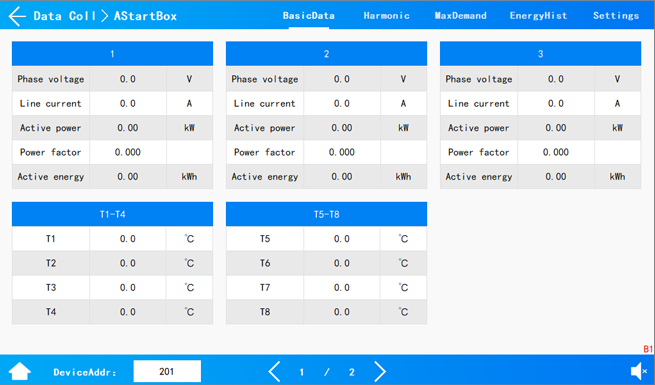 4.4 Harmonic data
Click the "arrow" to switch the 2-63rd harmonic data from left to right;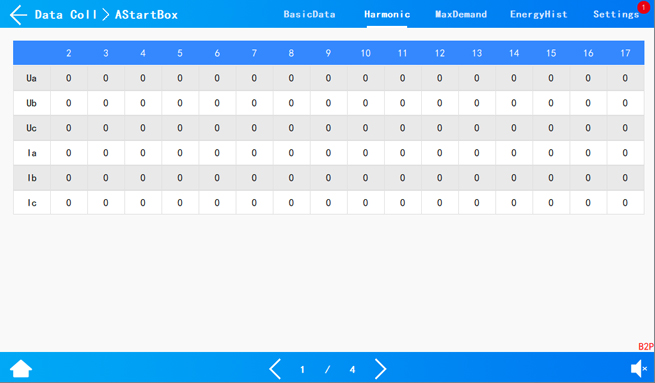 4.5 Max demand
Display the max demand value and occurrence time of voltage, current and power;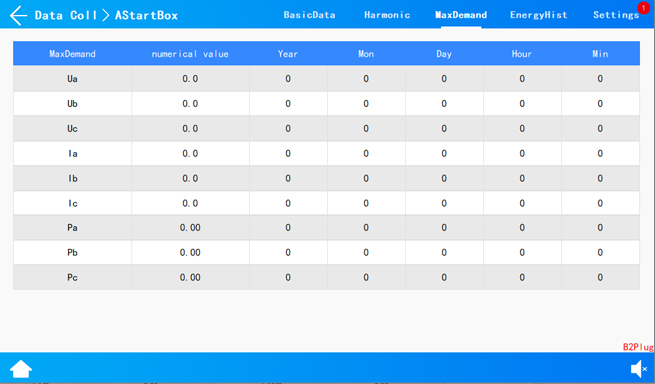 4.6 Energy query
You can query the power consumption of each month in the last December, the total power consumption of the last year, the power consumption of this year, and the power value according to different time.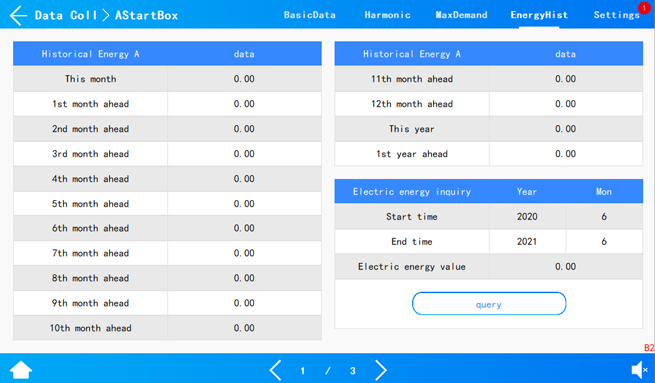 5. Configuration Scheme
| | | | |
| --- | --- | --- | --- |
| name | picture | model | function |
| Intelligent busbar management software | | ACREL-AMB1000 | The intelligent busbar management system can realize the intelligent management of the bus system, including the display of electrical parameters, various alarm functions, event recording, data acquisition, processing and forwarding, by programming in the touch screen. |
| Smart Gateway | | ANet-2E8S1 | 2 channel network interfaces, 8 channel RS485, uplink Ethernet communication, support breakpoint continuous transmission function. |
| data collector | | AMB310 | MBUS communication, RS485 communication to the monitoring system or touch screen, up to 200 acquisition monitoring modules can be connected. |
| Start box monitoring module | | AMB100-A(D)-P1 | Real time monitoring of voltage, current, power consumption and other electrical parameters of the starting box, as well as the temperature at the pins and the ambient humidity in the box |
| Plug box monitoring module | | AMB110-A(D)-P1 | Real time monitoring of voltage, current, power consumption and other electrical parameters of the plug box, as well as the temperature at the pins and the ambient humidity in the box. |
| Low voltage busbar temperature measuring device | | AMB200-LR | Real time monitoring of 4/8-channel temperature, infrared communication, warning and alarm functions, display functions, LORA communication |
| Infrared busbar temperature measuring device | | AMB300-Z | Real time online monitoring of single large range array temperature, MBUS communication. |
| Display | | AMB10 | front network port AMB10 (F), rear network port AMB10, can automatically cycle display voltage and current parameters |
| Current transformer | | AKH-0.66-W | Used for collecting load current, three in one transformer, crystal head interface, tool free installation |
| touch screen | | ATP010kt | Real time acquisition and display of busbar duct electrical parameters, switch status and other data and upload them to the background. You can set the threshold value of the alarm and log the alarm event. |