1. Platform Overview
AcrelEMS-EV automobile plant energy efficiency management platform integrates substation comprehensive automation, power monitoring, electrical safety, power quality analysis and governance, energy consumption management, energy efficiency analysis, lighting control, charging pile operation management, and equipment operation and maintenance. Safe and efficient factory energy management system provides data support. Through a platform and an APP, the centralized monitoring and analysis of the energy consumption of the enterprise is carried out as a whole, so as to find out the space for energy saving, reduce the cost of energy consumption, and reasonably respond to the impact of rising costs in the upstream of the supply chain.
2. Platform Composition
AcrelEMS-EV automobile plant management system is a deeply integrated automation platform, which integrates power monitoring system, substation comprehensive automation, power quality monitoring and management, electrical fire monitoring system, fire equipment power supply system, fire door monitoring system, fire emergency lighting and evacuation indication system, intelligent lighting control system, energy consumption monitoring system, new energy charging pile, prepaid system. Users can obtain data through browsers and mobile APPs, and through one platform, they can conduct centralized monitoring, unified management, and unified scheduling of power consumption and safety of automobile plants globally and as a whole. Stable, efficient and orderly requirements.
3. Platform Topology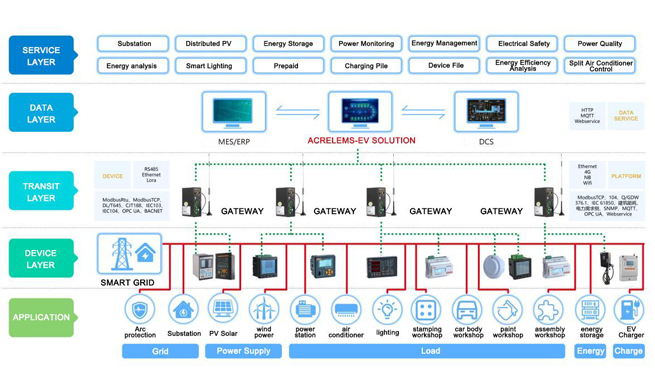 4. Platform Subsystem
4.1 Power Monitoring
Power monitoring is mainly aimed at 10/0.4kV ground or underground substations. The high-voltage circuit of the substation is equipped with microcomputer protection devices and multi-function instruments for protection and monitoring, and the 0.4kV outlet is equipped with multi-function metering instruments for monitoring and controlling the electrical circuit of the outlet. Parameters and energy consumption, real-time monitoring of switch cabinets of high and low voltage power supply and distribution systems, transformer microcomputer protection measurement and control devices, generator control cabinets, ATS/STS, UPS, including remote control, remote signaling, telemetry, remote adjustment, accident alarm and record Wait.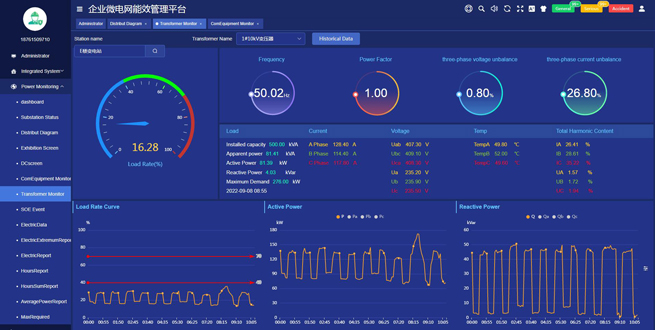 4.2 Power Quality Monitoring and Management
Monitor the power quality of each incoming circuit, including data waveform records such as voltage sag, harmonic distortion, flicker, etc., and then judge the disturbance direction of the power distribution system.
Configure active filter device and reactive power compensation device to compensate and control the power quality of 0.4kV side, and monitor the operation of active filter device and reactive power compensation device to ensure that the power quality meets production requirements.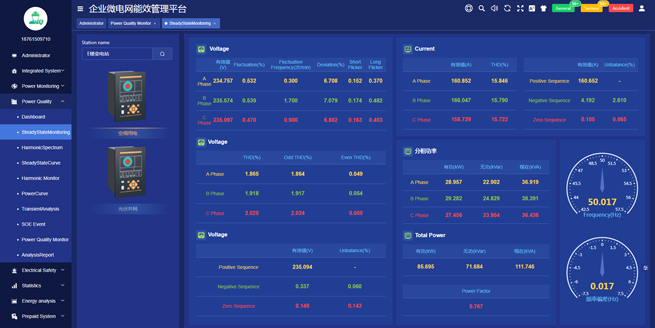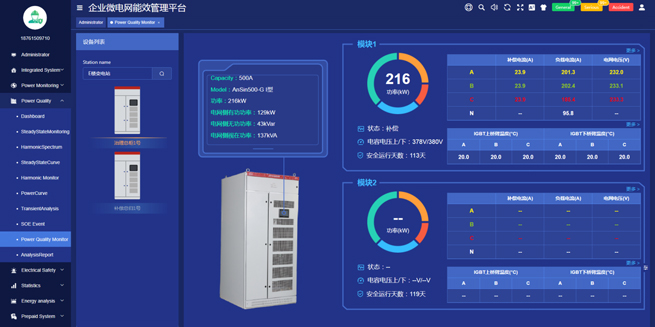 4.3 Substation Integrated Automation
The substation integrated automation system is mainly aimed at the 110kV substation, 10kV substation and 10kV diesel generator part. Acrel-1000 substation integrated automation system substation is set in the substation to realize local telemetry, remote signaling, remote control, alarm, report and other functions. The data is uploaded to the Acrel EMS-EV energy efficiency management platform for centralized monitoring and alarming.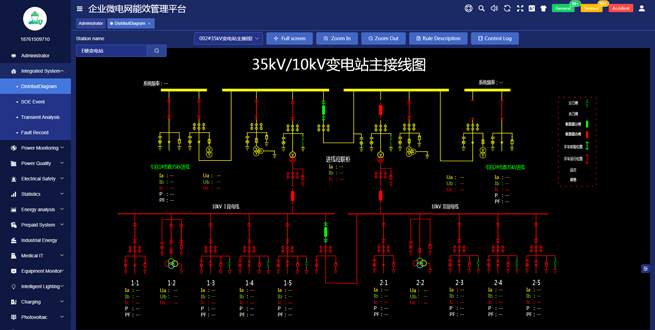 4.4 Electrical Safety
Acrel-EV automobile plant energy efficiency management system is equipped with corresponding electrical fire sensors, temperature sensors, fire equipment power sensors, fire door status sensors, access to fire evacuation lighting and real-time display of the status of indicators for the potential electrical safety hazards of the power distribution system, and Real-time monitoring of the battery temperature and internal resistance of the UPS, and timely warning through sound and light, SMS, and APP in the event of an abnormality.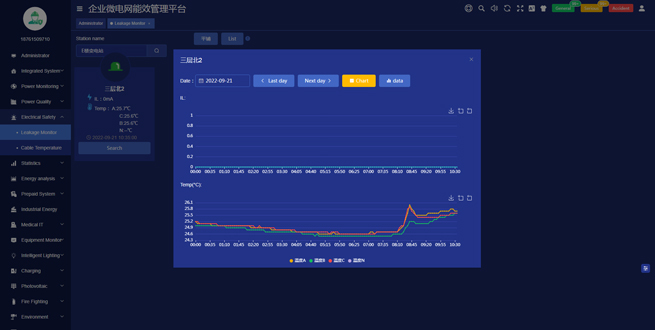 4.5 Smart Lighting Control
Single control, regional control, automatic control, induction control, timing control, scene control, dimming control and other control methods.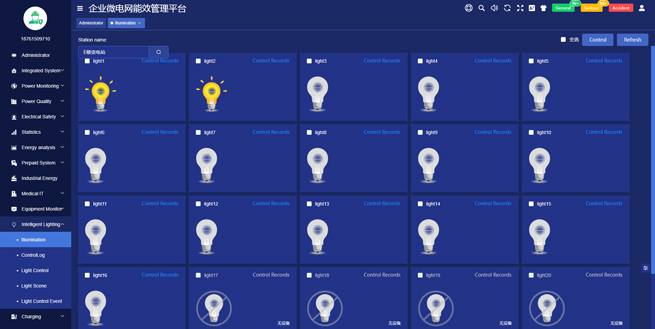 4.6 Energy Analysis
AcrelEMS-EV automobile plant energy efficiency management system builds a metering system for the factory, displays energy flow and energy consumption, and helps companies analyze energy consumption through energy flow diagrams and find out abnormal energy consumption areas. From the dimensions of energy use type, monitoring area, workshop, production process, process, work section time, equipment, team, sub-item, etc., the use of curves, pie charts, histograms, cumulative charts, digital tables, etc. , chain analysis, performance analysis, standard comparison, energy consumption per unit product, energy consumption per unit output value statistics, find out loopholes and unreasonable places in the process of energy use, so as to adjust the energy distribution strategy and reduce waste in the process of energy use.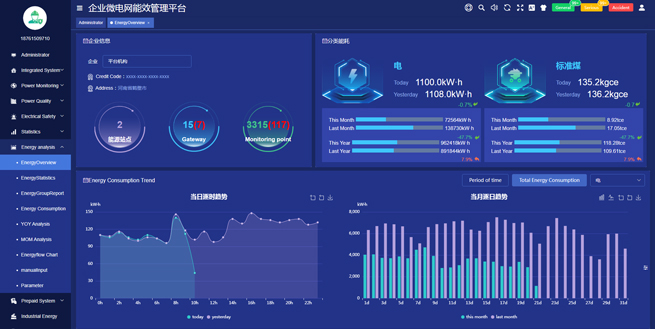 4.7 Charging Pile Management
Electric vehicle and battery vehicle charging pile management, including charge management and asset management.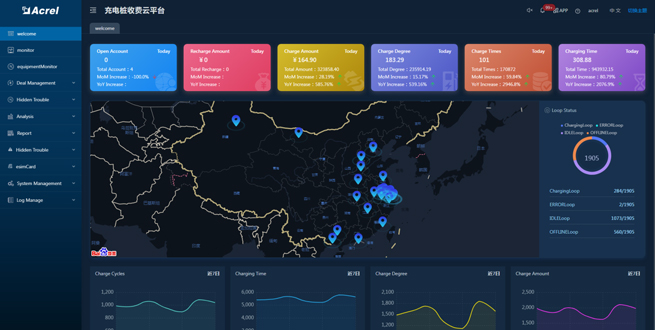 4.8 Staff Apartment Management
Carry out load management for the staff quarters in the factory, including vicious load identification management and load threshold management to avoid fire caused by vicious loads. Manage water and electricity charges for employee dormitories, support payment methods such as WeChat and Alipay, and collect energy consumption data in employee dormitories.