On October 23, 2021, the 2021 annual meeting of the Professional Academic Committee of Building Electrical and Intelligent Building of Wuxi Civil Engineering Society successfully ended at Wuxi Shanmingshuixiu Hotel. Acrel was invited to participate in the conference to demonstrate the application results of Acrel's energy efficiency system and power safety solutions.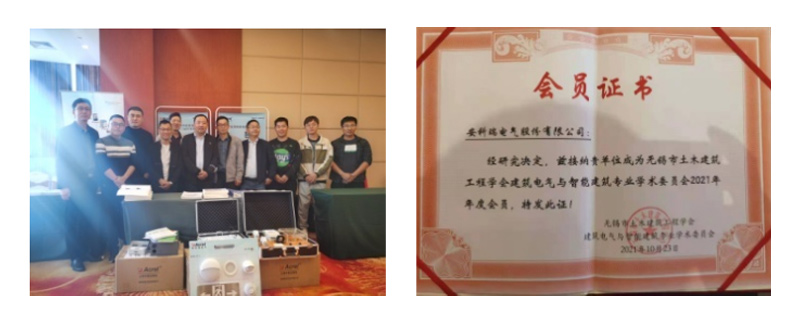 With the theme "Green Safety Smart", this meeting combines the hot spots and needs of the electrical industry, summarizes the past, plans for the future, and discusses the innovation and development of building electrical. Provide technical exchange opportunities for new technology application companies and survey and design units, improve the level of new technology application cooperation among enterprises, survey and design units, and engineering construction units, and promote the sustainable development of building electrical and intelligent building industries.

During this conference, Acrel's booth attracted many electrical experts, designers, and representatives of the owner to come for technical exchanges and business negotiations. The company's technicians visually showed the participants through Acrel's fault arc demonstration box, evacuation demonstration box, medical IT insulation monitoring demonstration box, operation and maintenance demonstration box and other physical objects, combined with Acrel's samples. Received praise from on-site designers and customers!

After one day's exchanges and learning, this annual meeting ended successfully!